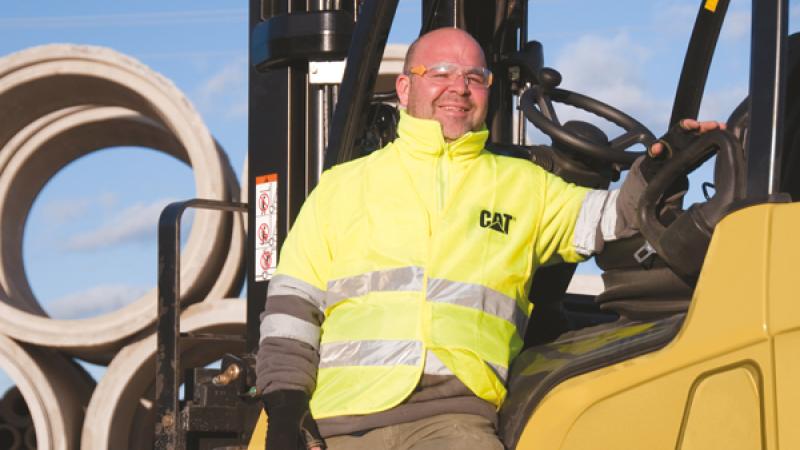 How do we maximise the productivity of your forklift trucks and warehouse equipment?
For maximum productivity and profits, you need more than a great lift truck. You need great after-sales services to keep it in action. Fast supply of the right forklift parts, whenever required, is essential. So is expert maintenance. Specialist advice is also vital in identifying the ideal forklift or warehouse truck for your application.
You can count on us for all these aspects of customer support – and more. Working closely with our local, national and international network of dealers, we seek the best possible results for your operation. Each Cat® dealer is carefully selected for its capabilities and its commitment to customer care.
The fastest Cat forklift parts supply – for all your lift truck needs
Losing work time while waiting for replacement lift truck parts to arrive can be a painful and expensive experience. Happily, our dealers' service vans and depots are always well stocked with spare components. We also run a Cat parts supply operation with market-leading levels of availability. Our 'full line, first pick' rate is the best in the industry. It currently stands at 97%. For current models it's even higher.
Our centralised European parts depot, in Belgium, extends to 10,000 m2. It stocks more than 58,000 separate part lines for our full range of forklift trucks and warehouse equipment. From here, we rapidly deliver items across Europe, Africa and the Middle East. Thanks to the global Cat Lift Trucks organisation, we also have quick access to other parts distribution centres. They include major facilities in Japan, Singapore and the USA.
With this unique and powerful infrastructure, we can supply the right part, in the right place, at the right time.
Top-quality, genuine forklift parts – assured by Cat® Lift Trucks
To protect and optimise your operation, you should always choose genuine Cat lift truck parts when replacements are needed. These are approved by the OEM (original equipment manufacturer) – in our case Cat Lift Trucks.
Non-OEM forklift truck parts present several potential dangers. One is that they won't fit. Their dimensions and design may not exactly match the original. They could prove difficult, time-consuming or even impossible to install. They might also be incompatible in other ways.
You can't be sure they will function as well as genuine parts. They may reduce your lift truck's performance and efficiency. Increased lubricant and fuel consumption are amongst the possible ill-effects.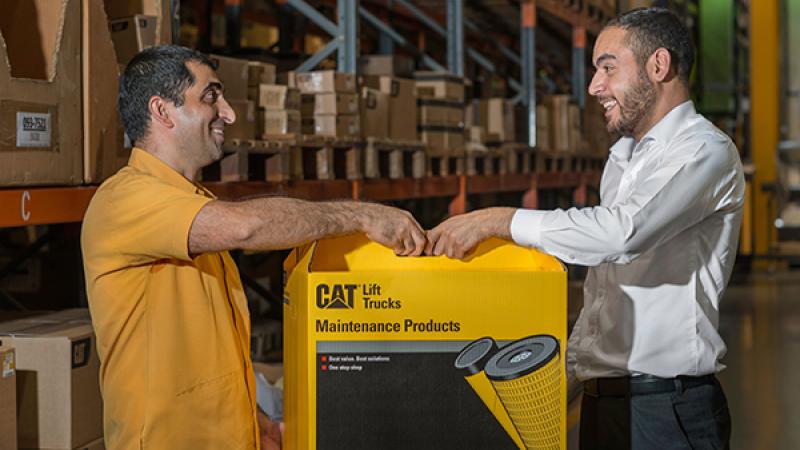 If the non-OEM forklift part is made from poorer materials, it won't be as reliable or last as long. Its substandard performance or early failure could damage other components and systems – leading to downtime and repair expense. Malfunctioning of the part may even result in accidents, injuries and worse. I
In addition, use of poor-quality parts can invalidate warranties and reduce the value of your truck. Non-OEM forklift parts may be cheaper to buy, but it's a false economy. They will cost you much more in other ways. As always, you should look at the total cost of operation (TCO), which is lower for genuine parts.
With genuine Cat lift truck parts, you will be certain of the correct quality and materials. Everything will meet the original design standards. You can rest assured that they will function reliably over a long lifetime.
Cat forklift parts are guaranteed to meet the strict specifications of the engineers who developed the lift trucks and their components.
Using Cat forklift parts and components is therefore essential from a safety and an efficiency point of view as the characteristics remain unchanged so the operator can always rely upon uniform machine behavior. The final result is that when the unit is retired from the operation a well-maintained machine is likely to achieve a better residual value.
More immediately, each genuine Cat forklift part is accurately sized and designed to fit easily, first time.
For further advice on why genuine OEM Cat forklift parts are important, click here.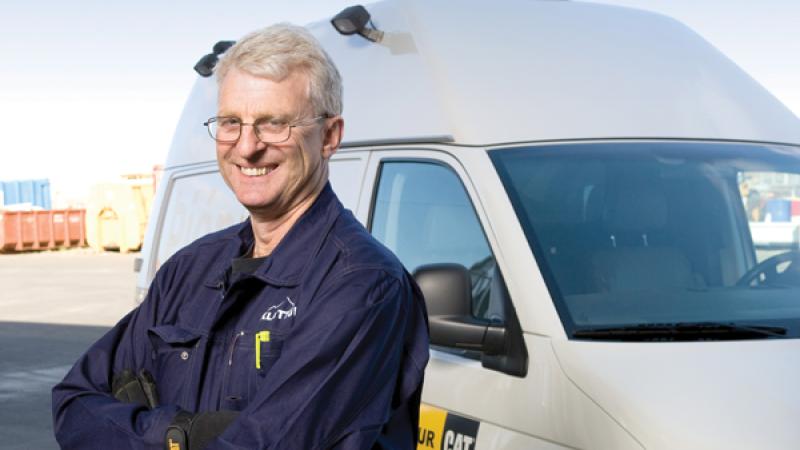 The most dependable forklift maintenance services – from your dedicated local Cat dealer
Your local authorised Cat lift truck dealer is your genuine supplier of Cat forklift parts and service. The dealer's factory-trained service engineers are better than anyone at keeping Cat forklifts and warehouse trucks in peak operating condition.
These technicians receive continuous high-quality training. Regularly updated with the latest technical information and knowledge, they carry out every task quickly and correctly. You can be sure of highly professional inspection, servicing and repair work – with minimal downtime.
In their fully equipped service vans, they respond rapidly to every emergency or routine call. Each van carries specialised tools and, of course, stocks of genuine Cat Lift Trucks parts.
For total peace of mind, they can offer a programme of planned, preventative maintenance, tailored to your needs. This will enable potential problems to be detected early and dealt with before failures happen. Our specialists will take care of your fleet and make sure you get the very best out of it.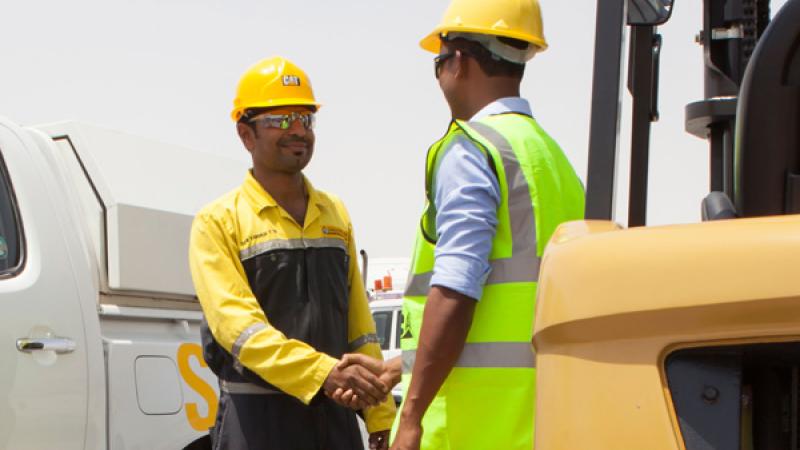 The best customer support – delivered locally, with strong global backing
We invest heavily in selecting, developing and supporting the dealers in our network. Along with the best lift trucks, they offer you the best advice, service and customer care in the industry. Our local, national and international dealer network covers Europe, Africa and the Middle East. We – and you – also benefit from the support of a powerful global partnership with huge resources.
We choose dealers who will uphold the values and qualities of our brand. We insist on excellent standards of knowledge, expertise and facilities, and on true care for customers' businesses. To reinforce this, we ensure that the dealers' technicians and salespeople are highly trained. Together, we're here to do whatever it takes to make your business stronger.
How can I buy genuine Cat parts and service?
Find Your Local Dealer
Your nearest Cat lift trucks dealer is equipped to provide maintenance services and help locate and supply the genuine parts you need.
Get started by selecting your region:
Watch some of our parts and service staff in action in the following short video: