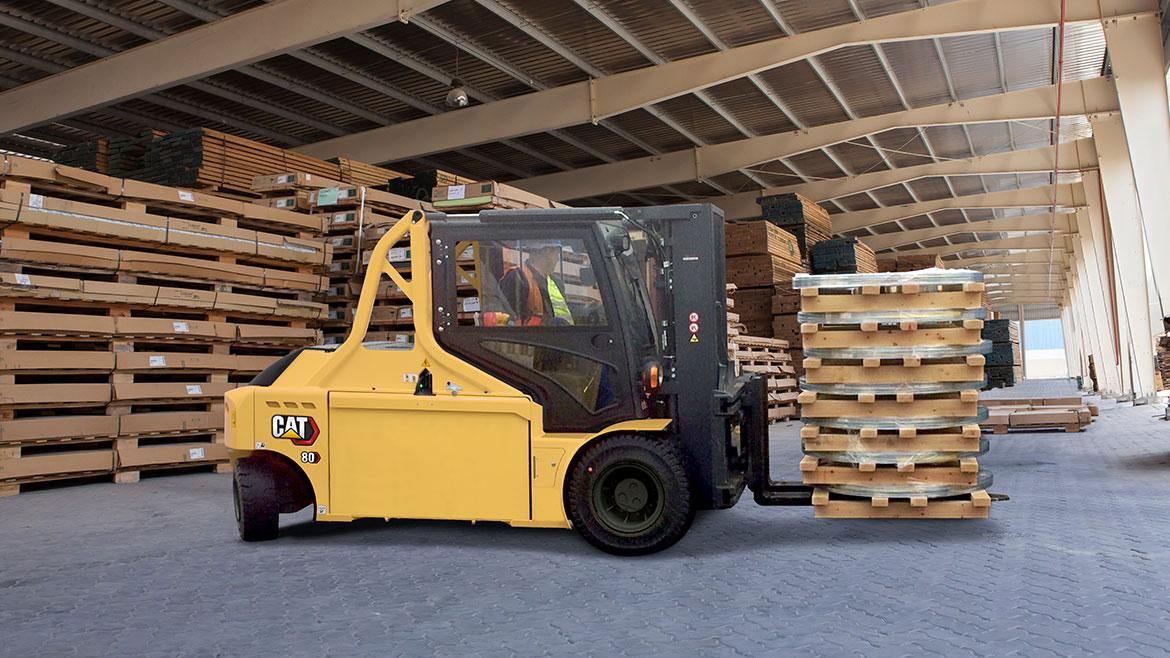 The EP60-120N(H) heavy electric forklifts are a highly profitable investment that will save you money and boost your productivity.
Robust engineering, for demanding roles and harsh conditions, combines with smooth, quiet comfort that optimises driver performance.
Our range of 15 large electric counterbalance trucks covers 7 capacities between 6.0 and 12.0 tonnes. To handle the heaviest and most intensive duties, we offer high-performance (NH) as well as standard (N) models. In addition to an impressive standard specification, we have many optional features to meet different application needs and preferences.
Typical applications of our heavy electric forklift trucks
Timber
Paper
Recycling
And many more
With large-capacity batteries and efficient electrical systems, our heavy electric counterbalance models use energy economically and give long runtimes. Their 96V batteries are divided into two parts. These can be easily exchanged, laterally, by one person with a power pallet or another forklift.
We reduce downtime and labour costs through quick engineer access features and diagnostic aids, which speed up servicing. We also build our electric forklifts robustly and seal and protect their key components. This cuts maintenance needs and expense even further, while extending truck lifespans and maintaining high residual values.
You can depend on our advanced electric motor technology to generate all the power and speed you need. Better still, our heavy electric forklifts deliver their high torque, acceleration and lifting strength with precise control. For the driver, it means every movement of the truck, mast and forks is rapid, accurate and smooth.
Our large electric counterbalance truck design includes high-positioned mast tilt cylinders which enhance stability and residual lifting capacity. The truck's compact shape is another fundamental aid to highly productive operation. It works with the responsive steering system and intelligent curve control to allow rapid but precisely and safely controlled manoeuvring. A low overhead guard is optionally available on all models, for use in containers and other workplaces with restricted height.
NH models feature a +100⁰ steering axle for maximum agility. They can turn on the spot, within their own dimensions, and make instant side turns without any initial backward movement.
To get the best out of your drivers, our heavy electric forklifts provide comfortable and enjoyable working conditions. For instance, we have designed a lower seating position compared to other large electrics. It means drivers will have much less climbing to do. This is a great bonus for those who have to leave and re-enter the cabin repeatedly.
We have designed a spacious operator compartment, set on rubber mounts to minimise vibration and noise. Our hydraulic pumps, drive units and controllers are also specified for quietness. Within this pleasant work environment, the driver finds a high-comfort, fully adjustable seat and ergonomic controls. It all helps to avoid tiredness, fatigue, stress and strain, which can lead to illnesses, absences and slow work rates.
Clear vision is another important factor in our large electric counterbalance design. Good all-round views are essential to precision and safety, especially when working at speed. Visibility through the mast is 'best in class', thanks largely to its special inner profile structure. The triplex stage nests within the duplex. In addition, the free lift cylinders are divided into two parts to reduce obstruction. For reversing, we've even fitted a rear-view camera as standard.
Latest electric motor technology reduces energy consumption while increasing power.
Advanced controllers ensure highly efficient motor management and are positioned close to their respective motors to shorten wiring and minimise energy losses.
Large battery capacity and voltage combine with high electrical system efficiency to extend working hours (runtime) while enabling strong performance.
Strong regenerative braking recycles energy.
Charging hatch saves on time and labour by allowing quick connection for recharging without removing the battery.
96V battery is divided into two parts, easily accessed without tricky doors or catches, for fast lateral exchange by one person using a power pallet or other lift truck.
Multifunctional, interactive, colour display encourages correct use and maintenance of truck.
Simple plug-in diagnostics and troubleshooting reduce downtime and maintain efficient performance.
Easy maintenance access features speed up servicing of motors, controllers and other systems.
Sealing of motors to IP54 standard protects against splashing and wind-driven water, as well as dust and dirt, for use in all weathers and on wet or muddy ground.
Sealing of controllers to IP65 standard gives even higher protection to sensitive electronics.
Protective enclosure of motors and controllers within truck's design further shields components from hostile conditions.
Additional rear oil cooler prevents damage due to overheating and helps maintain optimum temperature for efficient functioning of systems. (NH models.)
Fork carriage offers option of eight rollers (instead of six) for extra confidence in heavy use.
Robust construction reduces repair and part replacement needs and helps maintain truck's high residual value.
Powerful twin traction motors in front axle generate high RPM, torque and acceleration.
Powerful single lift motor provides fast, strong and precisely controlled hydraulic movements.
Advanced traction and hydraulic pump controllers make all drive, mast and fork actions smooth and precise.
High steering angles, precise electronic control and compact truck dimensions contribute to agile manoeuvring.
+100⁰ rear steering axle enables the truck to turn on the spot, within its own dimensions, and to make instant side turns with no need for initial backward movement. (NH models.)
Intelligent curve control assures quick but safe cornering by smoothly adjusting truck speed according to steered angle.
High-positioned mast tilt cylinders enhance stability, especially at greater heights, and increase residual capacity.
Low overhead guard option is available on all models – even those with the highest load capacities – for work in containers.
Silent hydraulic pumps together with quiet drive units, controllers and other low-noise technologies keep driver comfortable and stress-free, increase awareness of surrounding activity and avoid disturbing neighbours and co-workers.
Rubber-mounted operator compartment minimises vibration and noise.
Low seating position means much less climbing for drivers when frequently leaving and re-entering the cab.
Long grab handle and wide, anti-slip step aid entry and exit.
Spacious, uncluttered operator compartment offers plenty of foot room, overhead clearance and useful storage areas.
High-comfort seat is fully adjustable for driver size and weight, armrest position and other preferences.
Easy-to-read colour display keeps drivers fully informed.
Clear-vision mast design includes nesting of triplex stage within duplex and division of free lift cylinders into two parts.
Rear-view camera (fitted as standard) combines with special mast, dashboard and overhead guard designs to give clear all-round views with little or no need for driver to lean or change position.
Separate air conditioner and heater options allow choice of one or other, or both, or – for very cold regions – two heating units.
Window heating elements can be optionally specified for demisting front and/or rear glass.
Weatherproof panel options include: front windscreen (low or normal) with wash/wipe and roof; transparent plexiglass roof; PVC doors; or a full comfort cabin.
Knob on ergonomic steering wheel aids turning.
Telescopic steering column is adjustable for depth as well as angle, ensuring the most ergonomic and comfortable position.
Fingertip hydraulic controls on a comfortable, adjustable armrest are standard on NH models.
Manual hydraulic control levers are standard on N models but can be optionally swapped for fingertip units.
Pedal designs, positions and angles reduce fatigue for drivers of any height or foot size.
Separate forward and reverse pedals allow rapid changes of direction in busy operations and are accompanied by a large brake pedal for fast application with little effort.
Conventional accelerator pedal option can be selected if preferred, with optional direction-change lever on steering column.
Automated parking brake is activated after a set period when truck stops.
Seat switch deactivates travel if driver leaves the truck.
Bright orange seat belt colour helps in encouraging and enforcing best safety practice.
Sensorised seat belt shows warning light and prevents truck operation if belt is not fastened.
Emergency stop button is located behind the driver's seat if needed.
Lighting options include road light kit, LED work lights, amber strobes and blue spots
| MODEL | CAPACITY (kg) | LOAD CENTRE (mm) | ENGINE |
| --- | --- | --- | --- |
| EP60N | 6000 | 600 | Electric |
| EP60NH | 6000 | 600 | Electric |
| EP65N | 6500 | 600 | Electric |
| EP65NH | 6500 | 600 | Electric |
| EP70N | 7000 | 600 | Electric |
| EP70NH | 7000 | 600 | Electric |
| EP80N | 8000 | 600 | Electric |
| EP80NH | 8000 | 600 | Electric |
| EP80N-900 | 8000 | 900 | Electric |
| EP80NH-900 | 8000 | 900 | Electric |
| EP90N | 9000 | 600 | Electric |
| EP90NH | 9000 | 600 | Electric |
| EP100N | 10000 | 600 | Electric |
| EP100NH | 10000 | 600 | Electric |
| EP120NH | 12000 | 600 | Electric |
Image: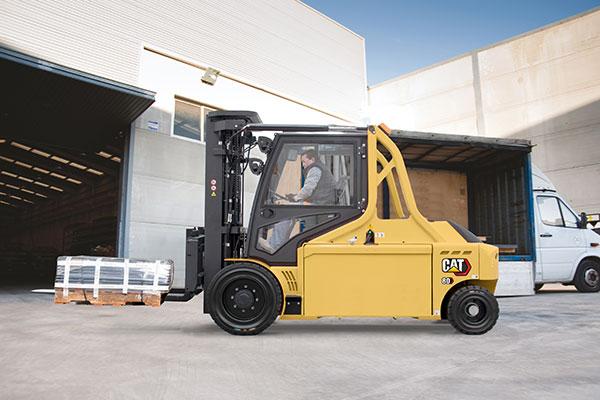 Image: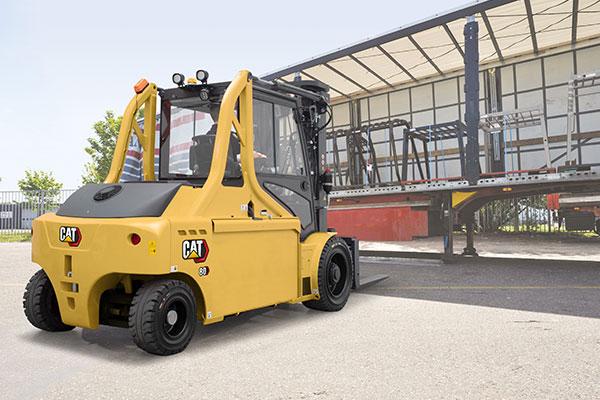 Image: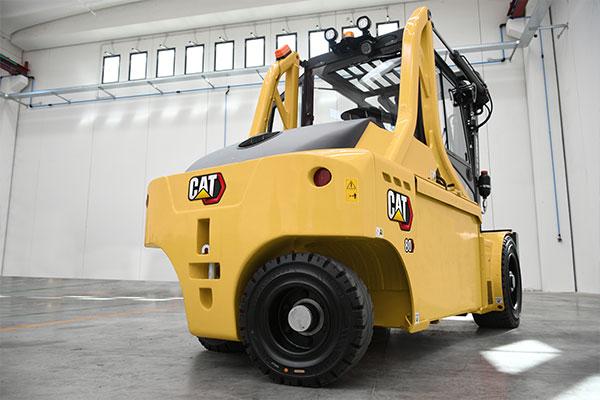 Image: