At Cat® Lift Trucks, operators' safety is of utmost importance to us. It's at the forefront of our minds when designing a new product or updating an existing range. To keep drivers protected when operating one of our machines, we incorporate many forklift safety features into our designs. Here are six of the lift truck safety features available across our forklift ranges:
1) Presence Detection System (PDS)
PDS is a system, which prevents truck operation when the operator is not seated. When the driver's seat is vacated, the drive and hydraulic functions are disengaged. It includes automatic parking brake and hill hold.
Together, the features of PDS ensure the forklift truck cannot move without the operator being seated and as a result, it prevents any accident which might lead to damage to the vehicle and most importantly, it keeps workers in the operating areas safe.
PDS is available on our counterbalance diesel, electric and gas forklift trucks.
2) Fingertip controls
Another forklift safety feature available on most of our trucks is fingertip controls. The fingertip hydraulic controls, which are mounted on a fully adjustable armrest, allow for optimum load handling and easy manoeuvrability. The choice of up-to-date, ergonomic fingertip or lever controls, which include an electronic button-operated parking brake, also allow for precise and low-effort operation of hydraulic functions.
Alongside this, the placement of controls ensures comfortable hand positioning and anatomical support for the driver, thus increasing comfort.
Similarly, our trucks come with a comprehensively equipped instrument panel which offers valuable on-the-go information and warnings to aid the operator's awareness and control.
This forklift safety feature is also available on our counterbalance diesel, electric and gas forklift trucks.
3) Ease of access
To help operators board and alight the truck safely, we install conveniently placed, long grab bars as well as wide, high-grip steps. Together, these features allow the driver to gain access to the comfortable cabin with ease.
Easy access features are available across our diesel, electric and gas forklift ranges.
4) Optimum steering
Our lift trucks come with an adjustable steering column. This forklift safety feature allows the operator to adjust the steering column to their preference for comfortable operation.
Some of our lift trucks come with electronic direction controls which permit easy and smooth shifting between forward and reverse travel, without the driver having to remove their hands from the wheel, at any speed up to 4.0 km/h.
Others come with hydrostatic assisted steering via a small-diameter steering wheel which ensures accurate and rapid response with little effort.
Improved steering features are available across our entire lift truck portfolio.
5) Low noise levels
Our forklift trucks have also been designed to limit noise levels. The low noise levels across all our trucks ensure the operators concentration while also reducing fatigue in long shifts.
Noise and vibration limitation features include rubber-mounted key components, fully insulated steel engine hoods and especially designed transmission gears.
Even our diesel forklifts, which are typically known for being noisier, benefit from these noise limiting features.
6) Improved visibility
The counterweight design of our trucks allows for a clear view to the rear for precise and safe manoeuvring. Mast with narrow channels and small-diameter lift cylinders increase forward vision. Improved visibility ensures not only the operator's safety, but the safety of the workers in the wider environment too.
Visibility is great across our entire product portfolio.
Safety is something that should always be at the top of the agenda for forklift operators. For further safety tips and information, why not check out our forklift safety video or read our article on our top safety tips for the winter months.
Image: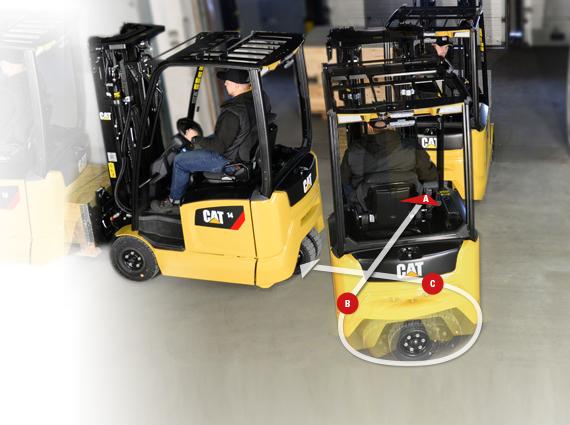 Image: