Are you sitting comfortably? Cat® sit-on power pallet trucks ease the strain of long and heavy shifts
Internal transport of goods over large distances, in intensive shifts, can be exhausting. Power pallet truck operators may be on their feet for many hours each day. As a labour-saving alternative, why not consider the new sit-on power pallets from Cat® Lift Trucks?
Designed to lower fatigue as well as raise productivity, the Cat NPS20-30N2 range offers multiple advantages. In addition to comfortable seating, these trucks bring power and speed to move heavy and long loads quickly and efficiently. Maximum capacity is 2.0 or 3.0 tonnes, depending on the model chosen.
At the same time, they are compact and highly manoeuvrable. This is essential when working in narrow aisles and high-density storage areas. Their versatility makes them ideal for work in a variety of production, warehouse, cross-dock and other multi-shift applications.
Comfortably equipped
To maintain the operator's level of performance, hour after hour, the designers have prioritised ergonomics and comfort. A quiet, low-vibration, ergonomically equipped operating compartment minimises stress, strain and tiredness.
Entry and exit are easy, space is generous and, of course, there is an adjustable suspension seat. Optional extra luxuries include electrically adjustable floor height for the perfect fit.
The ergonomic mini steering wheel, on a floating armrest, can be positionally adjusted to suit the driver. It encourages a relaxed posture which helps avoid neck and back strains or RSI (repetitive strain injury). The progressive electric power steering system has automatic speed-related sensitivity adjustment for high precision, stability and safety.
A second armrest is height-adjustable to bring the driver's right hand into a perfect position. It supports the wrist and enables effortless reach for simultaneous operation of the fingertip hydraulic levers and other controls.
Driver satisfaction is further enhanced by advanced motors and electronic control systems which make every action quick and smooth.
Fast and efficient
Along with fast travel speeds and rapid manoeuvrability, there are additional design features which increase work rate. Duty-cycle (pallet-cycles per hour) pace is notably improved as a result. Importantly, the operator is safely contained and protected within the truck's robust chassis and optional overhead guard. This gives him or her the confidence to drive rapidly through narrow spaces without fear of injuring a protruding shoulder, arm or leg, for instance.
Meanwhile, automatic cornering control optimises turning speeds for swift but stable and safe performance.
Compared to platform power pallet trucks, the sit-on models are faster and require less aisle width. This means you can make your aisles narrower and use the space in your building more fully for storage. What's more, there are no delays for folding and unfolding of platforms and side bars.
Both models, NPS20N2 and NPS30N2, are available with conventional lead-acid or fully integrated lithium-ion (Li-ion) battery power. Li-ion technology gives even greater efficiency and, together with fast opportunity charging, allows continuous operation without battery changes.
Further information on Cat Lift Trucks, warehouse equipment and related services can be found at www.catlifttruck.com. See them in action via https://www.catlifttruck.com/videos and follow the news on LinkedIn, Facebook and Twitter.
Image: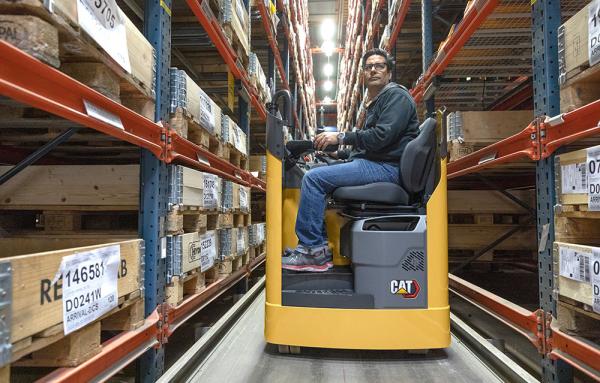 Image: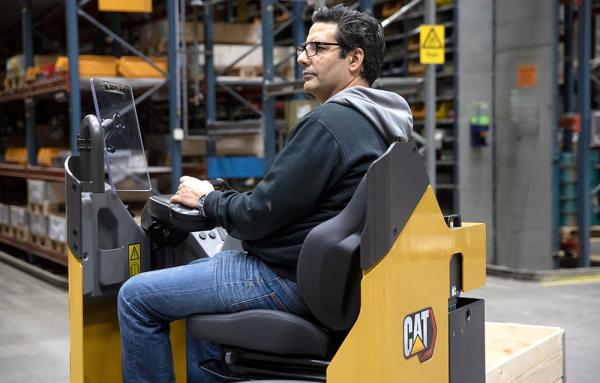 Image: