A crucial warehouse lift truck decision
How does the steering system on a tiller-operated truck affect your productivity and profits? Cat® Lift Trucks compares the advantages of three different tiller steering types offered in its warehouse range. This guide will help identify the one best suited to your application.
Before going further, we should be clear on why your choice of steering design and technology is important. Similar principles apply also to the tiller head, which contains the truck's drive and load handling controls. With customers' needs in mind, our designers have two main priorities:
Precise control. We want to enable users to manoeuvre and operate the lift truck both confidently and swiftly, for maximum productivity. At the same time, we want all actions to be accurately controlled, to avoid accidents. Preventing injuries is a prime concern. Another is to reduce the risk of losses through accidental damage to goods, trucks and facilities.
Ergonomics. We want to minimise discomfort, tiredness, fatigue, strain – including repetitive strain injury (RSI) – and other negative effects on the operator. These factors can lower the user's motivation and performance, and lead to sickness absences. Your output and profitability depend heavily on meeting operators' needs holistically.
When comparing the costs of differently equipped lift trucks, it's essential to look beyond their purchase or hire price. This is only a small percentage of a lift truck's total cost of operation (TCO). Most of the TCO is spent on the operator. To maximise the return on that investment, it makes great sense to empower operators to work efficiently. That often means spending a bit more on making sure the truck operates and rides tightly in every aspect and optimises the user's experience.
One tiller head – three steering systems
All Cat® tiller-controlled lift truck ranges now benefit from the class-leading, patented and ergonomic emPower tiller head. Its advantages are summarised later in this article. Users operate the steering, driving and load handling systems via its controls. On Cat 'platform' models – platform stackers, platform power pallets and platform double pallet handlers – the three steering system choices are:
Tiller-type power steering – via a short tiller arm
Comfort Steering – power steering via a tiller head without an arm
Mechanical steering – using a geared but non-powered tiller arm
Let's look in more detail at what each of these can bring to your business.
Tiller-type power steering
Unlike conventional tiller arms, this one's design is much shorter and neater. Thanks to power steering, less effort is needed to turn it. In addition, the powered system applies a progressive steering ratio. It means that only a small angle of tiller arm movement (+/-55 degrees) is needed for maximum turning of the lift truck. Manoeuvring is easier and faster, with notably less strain, especially in tight corners and narrow aisles.
With power steering there is no mechanical connection between the tiller arm and the steered drive wheel. This avoids transmission of bumps, twists and turns from the truck to the operator's arms, wrists and thumbs. Users can work productively over long periods with minimal discomfort or risk of RSI.
The Cat system's electronic technology includes a progressive hydraulic steering damper. Sensitivity is automatically adjusted according to the steered angle and travel speed, to give optimum resistance and feedback. In all situations the truck feels natural, stable and under full control.
Another feature is cornering control, which constantly monitors the steering angle, travel rate and quickness of tiller head movement. It automatically adjusts truck speed during turns to maintain safe motion.
Power steering should be the default choice for most applications. This is particularly true for multi-shift operations and other intensive work environments. In these cases, power steering will enable operators to be more productive. Meanwhile, lower sickness rates will help further in minimising TCO.
Tiller-type power steering:
Standard on Cat fixed platform models with rear entry
Optional on Cat folding platform models
Not available on Cat fixed platform models with side entry
Comfort Steering
In this design, there is no tiller arm. The tiller head rotates around a pivot point, as in a motor scooter's steering unit. Again, users enjoy all the benefits of power steering. However, in this case the necessary effort and distance of tiller head movement are even lower – for greater efficiency.
All of the advantages listed above for tiller-type steering are also true for Comfort Steering. You should certainly consider it for the most intensive applications. There are also some specific situations in which it offers additional benefits.
When travelling with forks trailing, Comfort Steering makes manoeuvring easier – even in sharp turns. Its smaller movements require less twisting of the operator's arm and allow a more comfortable posture. This further reduces time, strain and fatigue.
Comfort Steering is perfect for fixed platform trucks with side entry. There's another bonus for operators who need to stop, exit and re-enter the lift truck frequently. Unlike a tiller arm, the Comfort Steering tiller head is always in the active position. They don't have to pull it down each time – or hold it down while operating.
The higher the utilisation of the truck, the larger is the total benefit of these efficiencies. In addition, the intuitive simplicity of Comfort Steering's operation allows rapid truck familiarisation. This may be an important factor for businesses with a high number or turnover of staff.
Comfort Steering:
Standard on Cat fixed platform models with side entry.
Not available on Cat folding platform models.
Mechanical steering
The latest Cat mechanical tiller arm uses a special linkage design to reduce the operator effort needed for non-powered steering. This has been achieved within shorter and slimmer dimensions compared to previous lift truck tiller arms. The resulting compact tiller arm is simple, economical and durable.
Mechanical steering is offered as a choice for applications in which a truck is needed only occasionally. For any operation in which the trucks are used more frequently, power steering makes better sense in terms of TCO.
Mechanical steering:
Standard on Cat folding platform models
Not available on Cat fixed platform models.
All with the Cat emPower tiller head
Whichever steering type you choose, it will be controlled via the best-in-class Cat emPower tiller head. Its ergonomic advantages include:
Easier reach – with either hand – to dual controls
Unique patented design with optimum distance between hand and lift/lower buttons
Optimised handle shape and cross-section
Plenty of hand space – even for large and gloved hands
Enlarged horn and lift/lower buttons
Butterfly-type, dual-direction speed and brake controls with seven convenient finger positions

Comfortable, low-effort, precise operation – with or without gloves
Empower your operators and business
Find out how Cat tiller-controlled warehouse trucks can boost the performance of your operators and business. Click here to explore our lift truck range.
Image: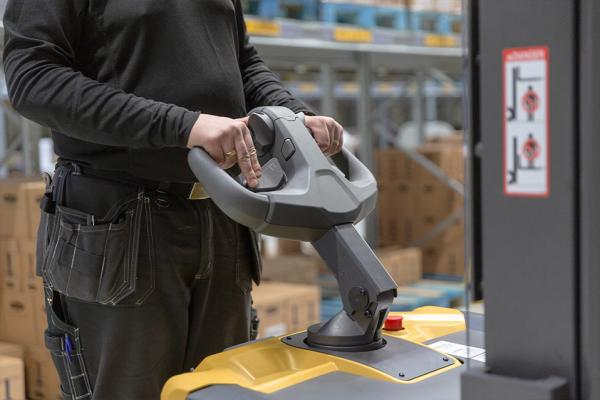 Image: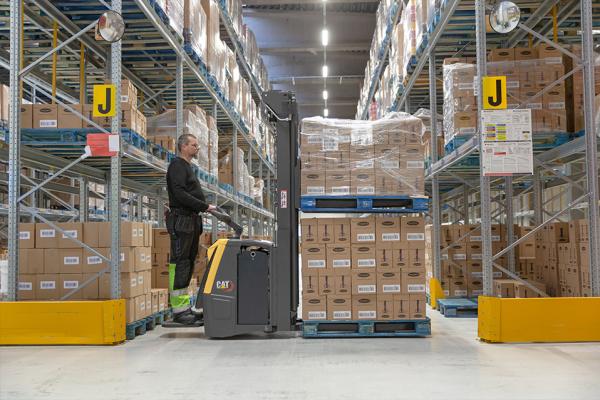 Image: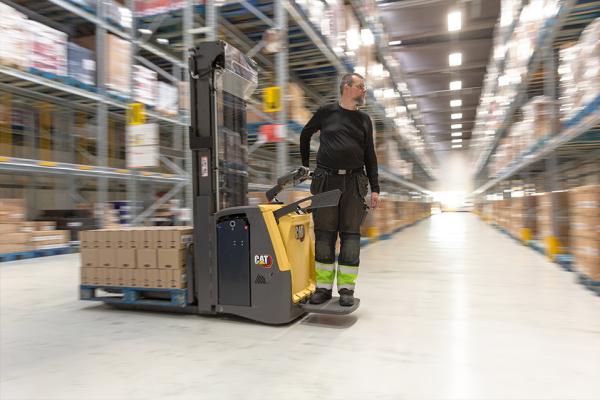 Image: