For most logistics operators, warehouse managers and materials handling professionals, the busiest time of the year is Christmas. Combine that with the increasing popularity of Black Friday and cyber weekend, the demand throughout November and December has hit an all-time high.
For others, such as those who sell outdoor products or operate in the fashion or DIY industries, sales peaks and busy periods might come at other seasonal points throughout the year.
Regardless of when the peak occurs, it's important to be prepared.
In an article for Eureka magazine, Ruari McCallion spoke to Richard Mallard, Senior Operations Manager at NX Group, who said they experience their busiest period from August through to December.
How do they cope with the surge without unbalancing their forklift truck fleets, payroll and expensive real estate? Richard explained it's all about planning their resources effectively and well in advance, often up to six months ahead, considering everything from personnel to maximising the effectiveness of their equipment.
With the busy Christmas period now just over six months away, we build upon Richard's insights with a look at what logistics and materials handling professionals can be doing to prepare for a surge in demand.
Things to consider
Learn from the past
The best place to start is with data. Looking at data from your previous busy periods can help you understand more about what to expect from your peak period ahead. This should highlight a number of things, including how much stock you need to order, and which products are likely to be most in demand.
Layout planning
Review your current warehouse layout in light of your learnings from historical data. How could your existing layout be improved in order to boost efficiency over your busy period?
Perhaps a certain product type should be moved to a more accessible area of your warehouse, or more space should be freed up for packing. Either way, evaluating your use of space well in advance of your peak period will ensure you can reach optimum productivity and efficiency.
Prepare your equipment
The last thing you want when your busy period hits is to realise your warehouse equipment is faulty or performing sub-optimally. Unexpected downtime can cause many productivity issues at a time when you are relying on your equipment the most.
Make sure you have serviced and repaired your equipment well in advance of your peak period to minimise the likelihood of equipment failure.
Prepare your staff
As well as preparing your equipment, you also need to prepare your staff. While some may be familiar with operating in seasonal peaks, others may be newer to the role and not know what to expect.
It's also important to ensure that your employees are up to date with their training, for whatever role they are in. We recently wrote an article on the importance of ensuring your forklift operators are up to date with their certifications, which you can read here.

 

Safety can also be easily compromised when staff and equipment are under pressure. Ensure everybody is up to date with their safety knowledge – our forklift and warehouse safety hub has lots of useful articles, videos and downloads.

Eliminate failed deliveries
Failed deliveries can cause issues during any period of trading, but especially so during your busiest period. Failed deliveries can occur for a number of reasons, including incorrect delivery details, goods not being loaded on the right pallets, pallet loads that are too high or goods arriving damaged.

 

You can't always prevent these issues, but where possible you should:

Ensure you have the correct delivery details
Load goods onto the right type of pallet, within the right height restrictions
Check if there are any restrictions which could result in your delivery not being made
Check in with the recipient to ensure they are still available to accept the delivery

Invest in new technology
Some technologies may make it easier to cope with a surge in demand during peak periods. Adopting technologies such as 5G can help improve end-to-end monitoring and the Internet of Things enables businesses to improve efficiency, decrease downtime and react to issues with accurate data.
Take a look at this article we wrote at the start of the year, where we explored the benefits that 5G, the Internet of Things and Blockchain can bring to logistics and materials handling businesses and professionals.
Planning ahead and allowing for flexibility
The key to coping with any surge in demand is planning and preparation. Ensuring your equipment, warehouse and staff are ready ahead of time is the best way to minimise issues during peak trading periods.
What we can also learn from the impact of the COVID-19 pandemic, is the need for flexibility. While planning is essential, it's also important to allow some contingency for such events that can drastically change the plans you had already created. This article is a helpful reference point on how some companies were able to adapt their plans, operations and infrastructure as a result of the pandemic.
With the Christmas period now just over six months away, have you started your preparations?
Image: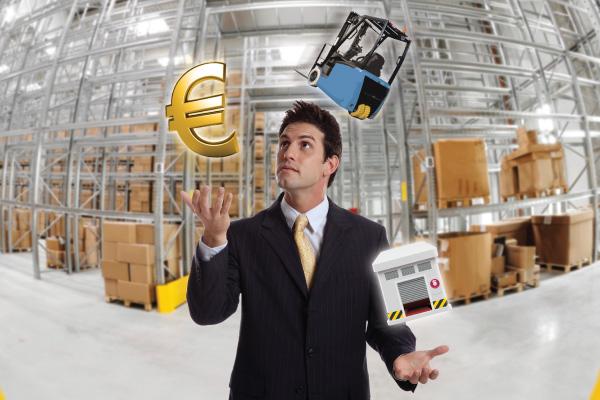 Image: