It's not often you see traditional forklifts on construction sites. You're more likely to find telescopic handlers or other types of trucks that are designed to handle rough terrains and difficult weather conditions.
But forklift trucks are still crucial to the construction industry. They are the most relied upon workhorse in building material supply depots, yards, and factories. They ease the strain on workers, increase productivity and ensure materials can be made available quickly to construction sites as and when they need them.
But what are the specific requirements of construction material depots? And how can forklift trucks meet these demands? We explore…
The requirements of the construction industry
Managing different load weights
Pallets of construction materials can differ vastly in size and weight. Brick pallets for example might be a lot heavier than other materials that need to be delivered to a construction site.
A standard forklift model that can lift between 1 and 2 tonnes is often sufficient for most warehouses and depots. However, a high-capacity alternative like our GP40-55(C)N3 or our EP40-55(C)N(H), with their larger wheelbase and tyres for better stability, will be more suitable for depots that are handling heavier and more demanding loads.
Difficult load configurations
Not all construction materials come on neat and easy to move pallets. In these cases, the operator may need to rely on forklift attachments to fulfil the job at hand.
A common attachment used in the construction industry is a hydraulic clamp. The hydraulic clamp enables heavy loads such as bricks to be stored and moved without the use of a pallet, a favourable option for warehouses and depots as it can save on space and improve productivity.
In other instances, the company may opt to use a different type of forklift all together. A multi-directional forklift, such as our NRM20-25N2, can be used to handle particularly long loads like pipes or timber.
Hazardous environments
All warehouses can pose dangers if the right safety measures aren't followed. But construction warehouses, depots and yards can be particularly hazardous. Materials stored here are often a lot heavier than warehouses in other industries and the environment can be challenging due to the constant demand from tradespeople for materials.
Ensuring worker safety is of upmost important, and this can be achieved in many ways. Firstly, forklift operator training and wider warehouse training is essential. But outside of training, forklift enhancements such as cameras and extra mirrors for enhanced vision can greatly improve operator safety.
High value materials
Construction materials are of high value so there is a pressure for operators to be accurate and careful when moving loads. Ensuring your forklift has clear and unobstructed upward, sideways and front and backwards views are one way to avoid costly accidents, while carrying loads at the correct height, adhering to speed restrictions and taking ramps carefully will also ensure materials get from a to be safely and without damage.
Choosing the right lift truck for the job
Even within the construction industry, warehouses, depots and yards can have very different forklift requirements. The best way to find the right forklift for your particular needs is to talk to your local Cat Lift Trucks dealer.
Alternatively, try out our lift truck selector by inputting your requirements to find the Cat forklift that best suits your needs.
Image: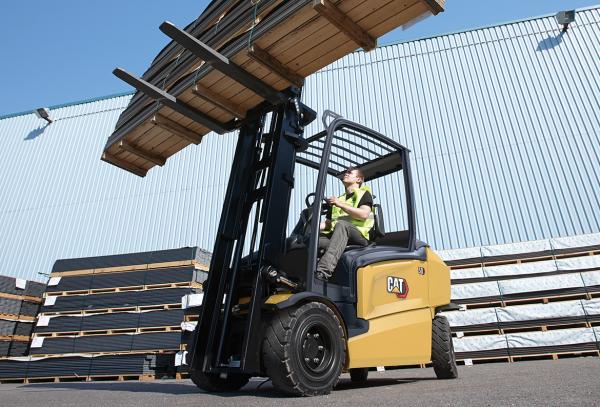 Image: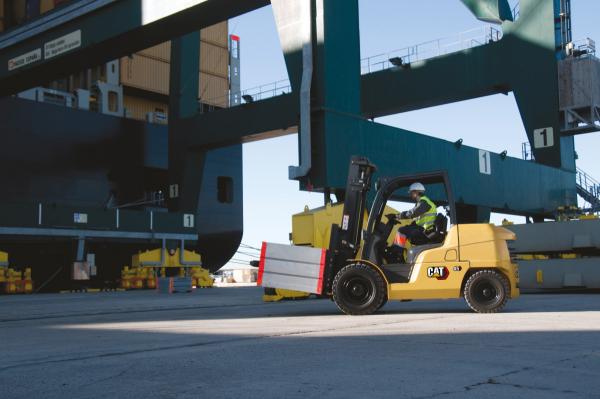 Image: