Within any warehouse equipment manufacturer's stacker truck range, you will find a potentially bewildering variety of model types. In a recent article for Eureka, the online magazine for the material handling professional, Mark Nicholson, with help from Andreas Schock, Warehouse Product Manager at Cat® Lift Trucks, sets out the key issues to consider when choosing between them. Here's a summary of the article.
Stackers are compact, economical and versatile, designed for stacking, retrieval and horizontal transport of pallet loads in warehouses and racking systems. Importantly, they can do these things in narrower aisles and smaller spaces than a counterbalance forklift or a reach truck.
However, it pays to be open-minded when it comes to replacing your stacker and consider whether a different solution might improve your operation. Andreas states that a good salesperson should ask you the right variety of questions to understand what warehouse equipment you really need before recommending a product.

The main stacker categories are:
Within those groups, there are versions with or without initial lift and straddle legs. You will also have a choice of capacities.
Regarding the questions to ask and points to consider, Andreas comments that the following are essential:
Size – knowing aisle width is fundamental as, unless the stacker's dimensions are small enough to operate in the space available, its other qualities are irrelevant. Pedestrian stackers are the most compact of all whereas sit-on stackers need wider aisles than the others.
Walk, ride or sit – To determine whether walking, riding or sitting will be most effective, Andreas looks at the typical distance travelled per transport movement and the frequency of such movements. For example, a platform stacker is designed for longer and more frequent shuttle runs as it usually has a higher travel speed. However, if movements are regularly up to 80 metres or more, stand-on stackers make good sense.
Capacity and performance - Whilst some applications require limitations on drive and lift speeds, to avoid damaging vulnerable goods and facilities, others welcome faster performance. Stand-on and sit-on stackers are generally the fastest and most powerful, but you should check and compare the maximum speed figures for all types. Additionally, the weight and size of your loads and the heights to which they must be lifted, need to be considered together when deciding on capacity. Andreas reminds buyers that the rated capacity which appears in a truck's name or description, reduces with increasing height.
Initial lift and straddle - stacker choice will also be affected by the nature of your floor and whether it is smooth, rough or uneven.
Andreas comments that as well as the above, you should also tell the salesperson other information such as the particular obstacles and challenges faced in your daily business; what do your drivers have to do, daily, when working with the stacker truck and if there is anything about your current stacker truck that you don't like or could be improved.
All of the details collected will be pieced together, to give a complete picture of your needs. The salesperson will then match this with the ideal stacker, adding specific optional features where necessary to achieve the perfect fit.
To read the full version of the Eureka article by Mark on how to choose a stacker click here, or to view the current Cat® stacker range, click here.
Image: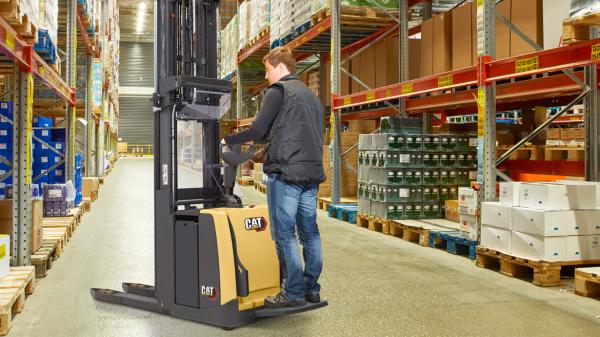 Image: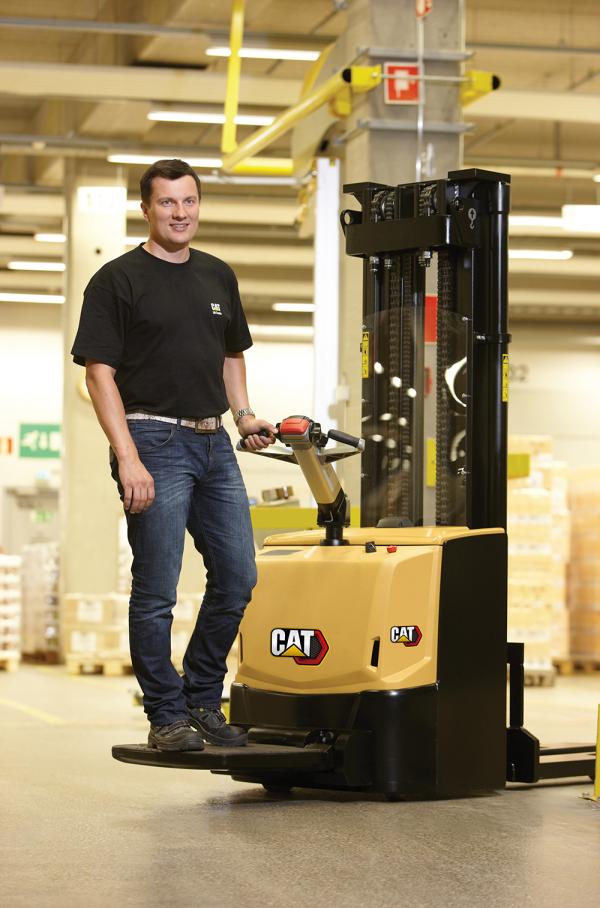 Image: