Whether we buy them to show our feelings for someone special, or simply to brighten our surroundings, flowers bring joy into our world. But do we appreciate the huge challenges posed by flower logistics?
When a flower is picked it starts to deteriorate. In that respect, flowers are perishable goods and must be kept cool, from the grower to the shop shelf to arrive quickly while still fresh. If they're damaged at any stage, they lose value.
With flowers perfect beauty is essential. Preserving the looks of such a delicate product is difficult, to say the least. They must be protected against wilting, as well as crushing, breaking or petal loss.
Cold chain logistics
Their often long and complex journey requires an unbroken cold supply chain. Typically, that means maintaining a temperature of around 1-2⁰C. This applies to every storage area, warehouse or distribution centre at which they stop, however briefly. For some, it includes flower auction houses, from which they may be redirected globally.
In cold chain logistics, all forms of transport between those points must be similarly refrigerated. That means lorries, trains, ships and – where necessary – aircraft. Some flowers have to travel from source to customer within two days, even if that means crossing more than one continent.
Loading and unloading at each stage needs to be quick. Between picking and delivery, no flower should be outside of a climate-controlled environment for more than a few minutes.
Effective protection by transport packaging is vital. Most flowers are packed horizontally into boxes. Those which need a constant supply of water are instead transported vertically, with their stems in liquid containers. They must be kept upright, and the extra weight of their water and containers multiplies their transportation costs. 
Further difficulties in flower logistics include enormous seasonal peaks in demand – like Mother's Day and Valentine's Day.
So why is all of this so important? Well, it doesn't just matter to the person receiving a gift of flowers. It matters to millions of people whose livelihoods depend on the flower trade.
Estimates for the global cut flower market vary. One recently published set of industry statistics puts it at about €28 billion in 2020, with a projected growth to around €40 billion by 2027. The floral market as a whole, including potted plants for example, is even bigger.
The Netherlands has been the heart of this global trade for over 200 years. Today it's still the biggest exporter of cut flowers, with a 40% share of the market. In addition to its home-grown produce, large amounts are imported by the Netherlands and then re-exported to other countries. The next-biggest exporters are Colombia and Ecuador in South America, and Kenya and Ethiopia in Africa.
The role of

forklift trucks
Materials handling professionals and designers of Cat® lift trucks have a significant role to play in flower logistics. Power pallet trucks, for instance, are commonly used in loading, unloading and cross-docking of flowers. Within flower warehouses, reach trucks are amongst the top choices for storing, retrieving and transporting the loads. Where necessary, forklift trucks can be modified for work in cold storage environments.
But what general qualities are needed by reach trucks, for instance, when used to handle flowers?
Speed is obviously crucial. Every extra minute affects freshness.
At the same time, all travel, mast and fork movements must be smooth and highly controlled. Any jerkiness could lead to damage.
There should ideally be automatic adjustment of cornering and load handling speeds to match the circumstances at each moment. Collisions and spills must be avoided.
Given that flower logistics is an intensive, 24/7 operation, driver comfort is another priority for these reach trucks. So are dependability and low maintenance needs. For a non-stop industry like this, the option of using lithium-ion (Li-ion) battery power has much to offer. An overall consideration is how efficiently the reach trucks use energy, space and labour. There's no point in moving flowers quickly if the costs wipe out the profit.
Beyond cut flowers, the wider floral and horticultural sectors are also big users of forklift trucks. This includes garden centres and suppliers of materials to the industry.
Floriade Expo 2022
Between 14th April and 9th October 2022, there is a major event for all who love plant life. Floriade Expo, the international horticultural exhibition, takes place just once every ten years. It's staged in Almere, the Netherlands. Floriade gives a spectacular opportunity for all to enjoy the scent and colours of flowers, plants, vegetables and fruit. Its Growing Green Cities theme highlights creative solutions to make our living space more fun, beautiful and sustainable.
You can bet that forklift trucks have played a big part in making this event happen! To find out more about our latest lift trucks and the key industries they are used in please click here.
Image:
Image: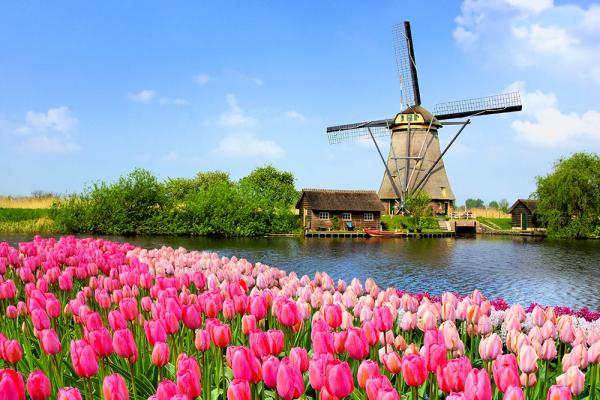 Image: