Daily or pre-shift lift truck checks are all about avoiding tragedy and expense. Cat® Lift Trucks offers practical advice on this, to keep your operation safe and profitable.
Broadly speaking, daily checks have two main aims:
Safety – to stop lift trucks from being used in an unsafe condition
Optimum maintenance – to spot problems early, so they can be fixed before more serious damage develops
Beware of false economy
Skipping daily checks, or carrying them out incompletely, is a false economy.
Failing to notice and deal with safety issues can result in accidents, leading to:
Death or injury
Employee sick leave
Large fines (and damage to your company's reputation)
Repair bills for damaged trucks and facilities
Replacement bills for damaged goods
Downtime (with loss of productivity)
Failing to notice and deal with emerging defects, damage or wear can mean:
Shorter component and truck lifespan
Breakdowns (causing inconvenience, downtime and loss of productivity)
Bigger repair bills
Invest in success
Considering these costs and consequences, preventative checks and maintenance actions should be seen as an excellent investment. At the very least, you should do what the laws in your country require. However, it pays to go beyond the minimum and take extra care of your business and your people.
Insist on training
Importantly, you should ensure your operators and any other staff involved in forklift checks are trained to carry them out properly. And if someone needs to switch on or move the lift truck during checking, maintenance or repair, make sure he or she is trained to operate it.
Follow the lift truck manufacturer's instructions
The user guide that comes with your lift truck will tell you what should be checked and how often. That's your starting point. Some items may need monthly or weekly rather than daily checks. Features to be checked will, of course, vary between models.
Think before you tick
Sometimes a daily checklist appears as little more than a list of systems and components. If an item looks OK, the checker gives it a tick. But what signs of a problem should the checker be looking for in each case? What would tell him or her if the item wasn't OK?
To help answer this, Cat Lift Trucks recently produced a daily checks guide. This expands the checklist into a series of more specific and detailed questions.
Look for clues
Taking just one example, a checklist might simply ask you to check the mast and fork carriage. Our guide goes further:
Do any of the structures look worn, cracked, bent or otherwise damaged?
Can you see traces of wall plaster or paint, suggesting they have been in a collision? Are they very rusty?
Are there any loose or missing bolts or fixtures, particularly where the mast is attached to the chassis and the tilting mechanism?
Are moving parts – including bearing surfaces – contaminated with materials like mud or cement, and are they well lubricated?
Are there leaks from the hydraulic cylinders?
Report it
If you find a fault, report it immediately to the relevant manager. He or she will decide whether it's safe to carry on using the lift truck or if it should be taken out of service.
Find out more
Further information on Cat forklifts, warehouse equipment and related services can be found on our Products page. See them in action via https://www.catlifttruck.com/videos and follow the news on LinkedIn, Facebook and Twitter.
Image: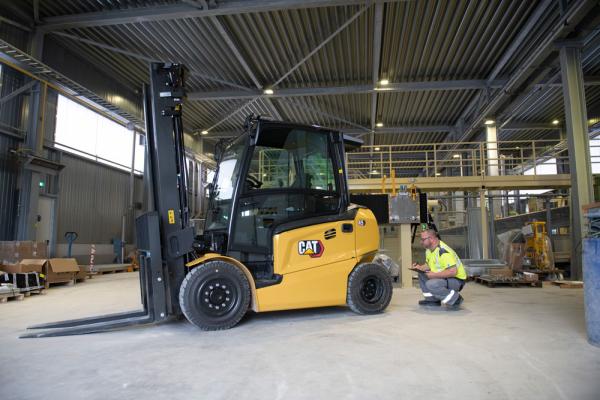 Image: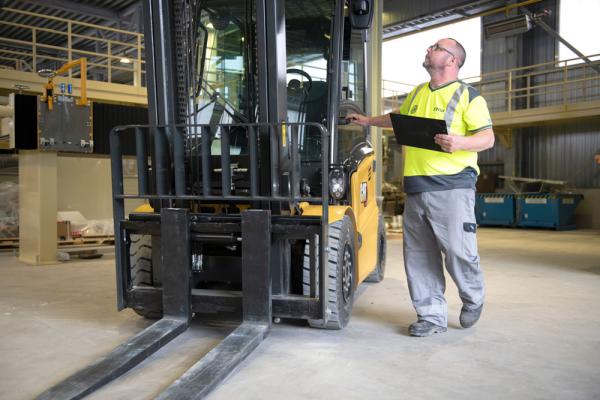 Image: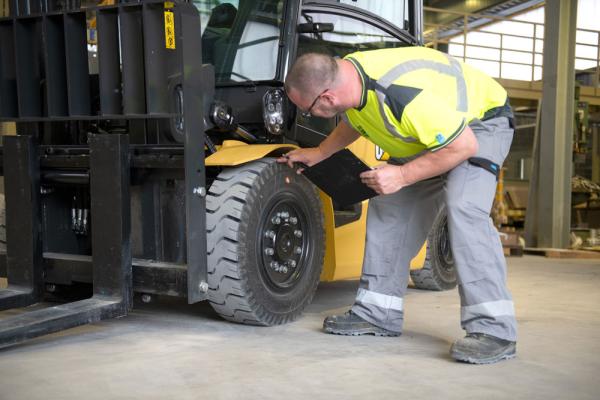 Image: