Building quality around the customer
When buying any piece of equipment, sensible customers will consider not only whether it works well today but whether it will continue to work well in the future. In other words, they are looking for quality.
Mark Nicholson has been speaking to the Directors at Cat® Lift Trucks' production facility in Järvenpää, Finland, to find out how they ensure their products meet customer needs – and deliver in the field – by applying the highest quality standards.
The Järvenpää factory happens to make materials handling equipment, but its attitude to quality could equally be applied to any manufactured product. It should be mentioned, straight away, that the Järvenpää team is well qualified to give advice, as its products have won many international awards.
Starting with R&D
Quality control starts at the research and development stage. After all, a machine may be perfectly assembled in the factory but if its design or the materials and components from which it is constructed are poor it will never achieve high quality.
R&D Vice President Janne Polvilampi points to industrial design, and the way in which it is integrated throughout the R&D process, as a key to the plant's success: "The process begins with concept design. This creates the big picture, showing what the team is trying to achieve and taking into account all of the relevant business, mechanical, technological, design and other factors which will shape the project and determine the quality of the end product."
Most importantly, Janne's colleagues place the customer in the driver seat at every stage. The customer, of course, may have very little interest in the engineering of the truck but is very interested in how it helps his or her business.
A related R&D process used at Järvenpää is co-creation. This involves inviting customers and Cat lift trucks dealers to participate in the product's R&D right from the beginning. Understanding their current and future needs is vital. Researchers go to the customers' warehouses and other work places, study the ways in which trucks are being used and interview staff.
'Measuring' operator opinion of the trucks as they are being developed is essential and the team has found ways of defining criteria to express the feelings operators experience during trials. Both computersimulated and real-life trials are carried out, using large numbers of operators to ensure clear results.
Testing, testing, testing
When it comes to product testing, the Järvenpää factory has an added dimension. As well as having the benefit of over 70 years' experience in building materials handling equipment, it has been a leader in the development of automated guided vehicles (AGVs) since 1983.
This automation know-how is used in the testing of materials handling products and allows a much more rigorous approach than is possible using humans. In automated testing, a truck can be operated continuously, 24/7, while a human tester would need to stop and sleep. Automated testing equipment can also subject trucks to harsher conditions than would be possible with a human on board. In addition, because the testing is carried out by machines it produces very accurate data.
The Järvenpää facility complies with the relevant ISO quality management standards, as you would expect, but Janne Polvilampi sees these as a minimum requirement: "We go at least twice as far as that with our testing. For example, we apply the very tough set of lifecycle criteria established by our global partners."
The right ingredients
Any cook will tell you that poor ingredients can spoil a recipe, so the factory tests individual components as well as whole trucks. Many components are manufactured in-house, but those sourced elsewhere are bought only from top-end suppliers – and even if the manufacturer has an excellent reputation for quality, they are subjected to the factory's own testing regime before a decision on their use is made.
"In choosing components, as in all aspects of R&D, we adopt a cross-functional approach," says Janne. "By including production, purchasing and other related functions in the decision-making process we can be sure that by the time the truck is ready to build we will have considered everything that could possibly affect its quality."
Staff strength
At this point, Production Vice President Rami Alto takes up the story. Rami is in charge of the 120 production staff who build the trucks and are responsible for checking their quality prior to distribution and sale.
"One of our great strengths is the experience and skills of our workforce. In fact they are multi-skilled, which gives us great flexibility as we can move them between jobs as circumstances demand."
Attraction of high-quality staff to the factory's production, R&D and other departments has been helped by the plant's reputation as a manufacturer and employer. Another factor is location, as there is no major car manufacturer in the area to lure young talent away.
Within the Cat Lift Trucks organisation there is a very high regard for the Järvenpää factory's staff and their quality standards. Many readers will be aware that in the recent reorganisation of its operations the company has moved its electric counterbalance assembly line from Almere in The Netherlands to Järvenpää, which has also been appointed as its counterbalance development centre.
Several highly experienced existing staff at the factory were chosen to be team leaders for the 30 new workers recruited to build counterbalance trucks. After thorough training in Almere, which covered all aspects of counterbalance engineering, including quality control, the leaders returned to pass that knowledge on to their teams. In the initial stages they have been supported by a dedicated team from Almere to make sure that the quality and processes are the same in every factory.
For those working on warehouse equipment, life in the factory is as varied as the range of trucks they build. Some of the more specialised warehouse models are only required in small numbers and are produced on static rather than moving assembly lines.
Constant improvement
At the end of each line, a number of key points are checked on every truck before it is released for distribution. As an extra quality control measure, about one in every fifty trucks is chosen at random for a very intensive product audit.
For the electric counterbalance trucks, the production team at Järvenpää uses the same checking criteria and procedures as were applied in Almere. While that should ensure continuing satisfaction in terms of build quality, there is no room for complacency.
"Like our associates in the global organisation, we follow the Japanese philosophy of Kaizen," says Rami Alto. "Kaizen is the continuous, step-by-step improvement of processes and activities. We know we are building very high-quality products but we always feel we can make them even better."
Mark Nicholson
The electric counterbalance assembly line, transferred to Järvenpää as part of the Cat Lift Trucks reorganisation.
"One of our great strengths is the experience and skills of our workforce." Rami Alto, Vice President, Production.
The latest Cat power pallet truck won the internationally coveted Red Dot award in 2012 for its high design quality and usability.
Image: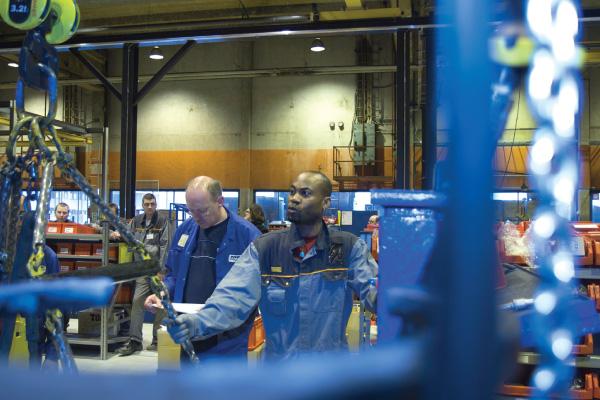 Image: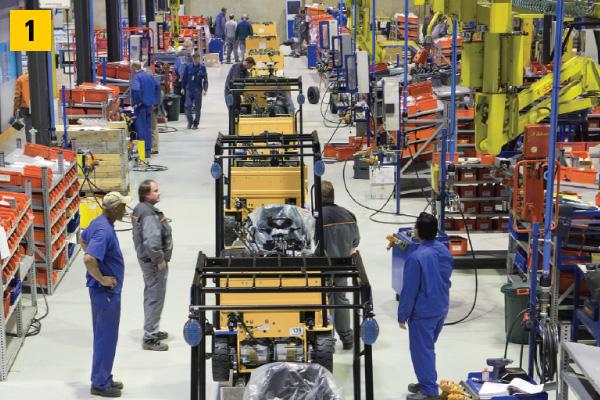 Image: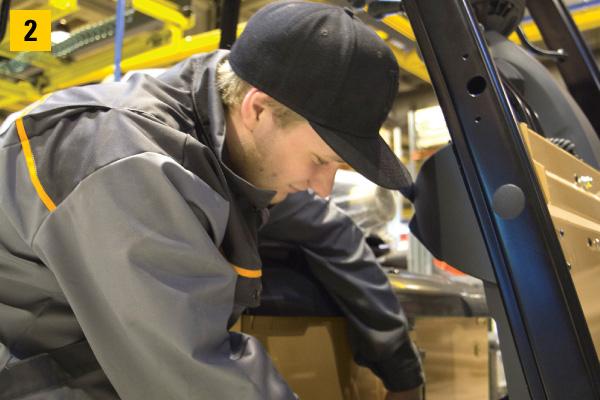 Image: