How can you cut the cost of your lift trucks? Choosing forklifts with a lower purchase, lease or rental price might seem the obvious answer. But what about the many other expenses involved in operating them?
The amount you pay a dealer for a forklift truck is only part of its lifetime cost. You will spend much more than that on the driver's wages alone. The purchase price is a one-time expense, but salary is paid repeatedly for as long as you have the truck.
Other ongoing costs include fuelling, or recharging, and maintaining and repairing the truck. Adding up all the costs related to buying, using and eventually disposing of the truck gives you its total cost of ownership (TCO).
For those leasing or hiring forklifts rather than purchasing, TCO may be better defined as total cost of operation. That may seem less than the total cost of ownership. However, the supplier is likely to pass ownership expenses on to the customer within the monthly leasing or rental charges.
Some of the costs are obvious. Others, especially those relating to the driver, may not always be considered in forklift lifetime cost calculations. Here are some key factors you should compare between lift trucks when deciding which is truly the most cost-effective.
Key lift truck cost factors
Energy efficiency
A more energy-efficient forklift truck will use less fuel or electricity to do the same amount of work. That efficiency can be used to drive down fuel and power bills. In electric forklift trucks, it also enables you to do more work per battery charge – so reducing downtime.
Ease of servicing and repair
The longer it takes to carry out maintenance and repair tasks, the higher will be the labour cost. Time spent on battery changes should be counted here too. Easy service access and simple procedures help speed things up.
Durability
Whenever something needs to be repaired or replaced due to damage or wear, there are part and labour costs. Robust and durable construction of components and systems reduces the number of maintenance bay visits.
Uptime
Ideally, a lift truck should be kept in constant productive action. Truck downtime for servicing and repairs can reduce your materials handling operation's productivity and profits. The same is true for electric forklift battery changing, or onboard charging, if the truck would otherwise be working. High energy efficiency can extend runtime, so less recharging and fewer – if any – battery changes are needed.
Longevity and residual value
A robust, durable forklift truck can be expected to give a longer service life – with continuous high performance. This means the expense of replacing it will come around less often. A forklift in good condition, with a brand name recognised for high quality (like Cat® Lift Trucks), will also hold a high residual value. This will help you to get a good deal when you return or sell it.
Driver-related costs
Anything about the lift truck that makes your driver less productive should really be seen as a cost. We have discussed this in a previous article on how to speed up materials handling. The key truck design factors which maximise productivity are manoeuvrability, ergonomics, vision and precision, smooth control, safety and protection.
A forklift truck designed to minimise accident risks will clearly save money and therefore lower your total cost of operation. Damage to trucks, equipment and facilities is expensive to repair. Then there is the related cost of damaged goods. Repairs and clear-up operations also mean downtime, with loss of productivity. And if a driver is absent through resulting injury, you may have to pay for another to take over his or her shifts.
Finally, remember that labour costs increase in a similar way when driver absence is caused by stress and strain-related illnesses. To avoid these, look for good ergonomic and comfort features when choosing your lift trucks.
Cost-saving lift truck design and specification
Cost-saving design and specification are well illustrated by the latest 4 to 5.5 tonne electric counterbalance forklifts from Cat Lift Trucks. Key features of the Cat® EP40-55(C)N(H) range include:
Best-in-class efficiency

Energy-saving ECO mode

Li-ion battery option for even greater efficiency, longer runtime, fast opportunity charging, continuous operation (without changing batteries), minimal maintenance needs and extended lifetime

Easy servicing access

Simple plug-in diagnostics and troubleshooting

Typical Cat Lift Trucks quality, durability and high residual value

Dynamic aids for exceptional manoeuvrability and agility – including OmniTurn all-wheel steering, RDS (Responsive Drive system) and intelligent curve control
S

moothFlow

and other hydraulic technologies, with effortless fingertip or joystick controls, to optimise mast and fork movements

Automated speed and stability aids

Class-leading quietness in spacious, vibration-free, floating operator compartment with clear all-round views, comfortable furnishing and ergonomically designed equipment
Click here for further information on how this highly cost-efficient electric counterbalance forklift range can reduce your TCO.
Image: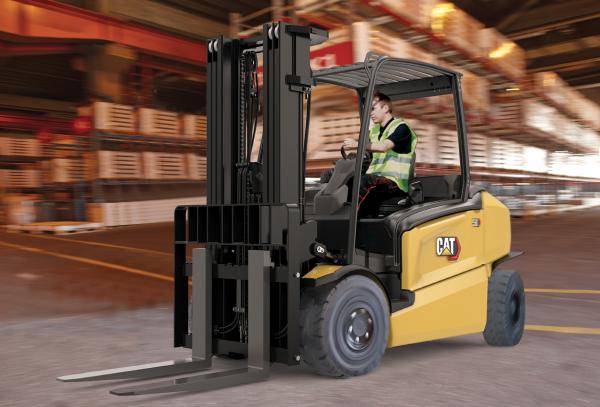 Image: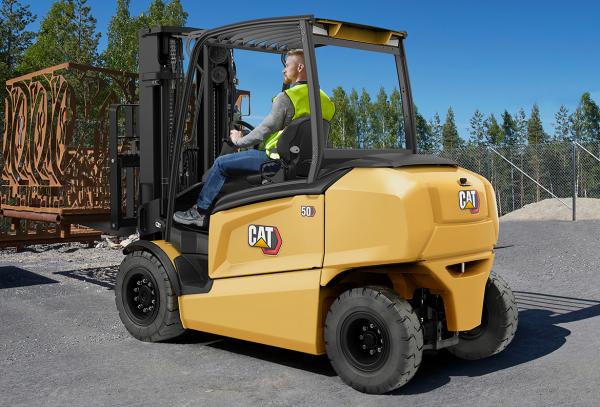 Image: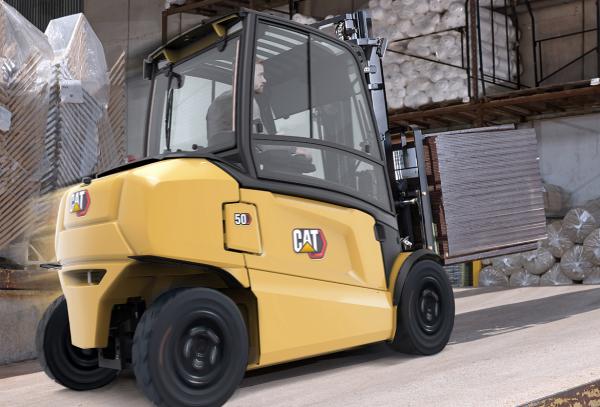 Image: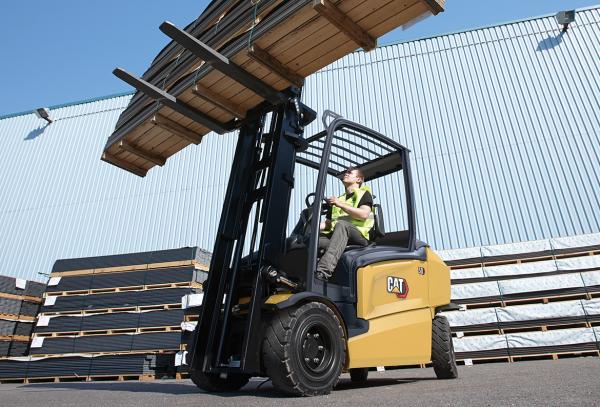 Image: