How do the trucks in your forklift fleet make your drivers feel? In this article we will look at the qualities of a lift truck that make it a pleasure to operate. Why? Because happy drivers are more motivated and perform better.
Cat® Lift Trucks invests heavily in optimising the user experience given by its products. The science of user experience is explored in detail in a previous Eureka article.
Put simply, user experience is the way a user feels about using a product. User experience in forklift trucks is closely linked to ergonomics. An ergonomic lift truck is one which is designed around the driver and his or her needs. It enables the user to achieve the best possible effect. Efficient interaction between the person and the truck is essential to this, and so is comfort.
But the quality of a forklift truck's user experience goes further than this. It includes the look and feel of the truck and its equipment, and the emotions generated when driving and handling. Do the materials, furnishings, controls and overall design give a high-quality feeling? Does the driver feel a sense of being totally in control? Is every action and movement smooth, precise and predictable?
Listening to lift truck users' views
Cat Lift Trucks product development teams have long been pioneers in human-centred design. Using advanced methods for understanding and measuring user experience, they work closely with drivers at every stage.
This includes visiting workplaces, observing drivers' daily lives and discussing their needs and wishes. Forklift drivers from a variety of sectors, and ranging from inexperienced to highly skilled, are invited to test prototypes. Their opinions and feelings are crucial in shaping the final trucks and achieving a user experience that's exactly right.
Forklift user experience in practice
To illustrate the results of this approach, let's consider a few of the features and qualities of a real-life lift truck. Take the Cat® 80V 2.5 to 3.5 tonne electric counterbalance forklift range: EP25-35A(C)N.
For hydraulic control, there's a choice between fingertip levers and twin joysticks. Each unit is designed with hand and wrist anatomy in mind, to optimise support, minimise effort and allow easy reach. An adjustable armrest ensures perfect positioning.
The seat and steering column also offer extensive adjustability to suit drivers of all sizes. A spacious and easily accessible operator compartment adds further comfort. Quiet drive units and other low-noise technologies, including the option of market-leading SilentRun+ hydraulic pumps, create peaceful, stress-free conditions.
Equipped with a variety of intelligent systems, these counterbalance forklifts seem to 'know' what the driver wants them to do. Central to this capability is the Cat Responsive Drive System. RDS adapts performance rapidly in reaction to the speed of pedal operation and to the driver's hydraulic control behaviour. It makes all drive and hydraulic movements, actions, stops and starts smooth.
Other refinements include the SmoothFlow hydraulic system. This automatically adjusts mast and fork actions – both individual and simultaneous – according to load weight. Another key feature is advanced curve control, which optimises turning speeds while keeping the truck stable and safe.
Further information on this user-friendly electric counterbalance forklift range can be found here.
Image: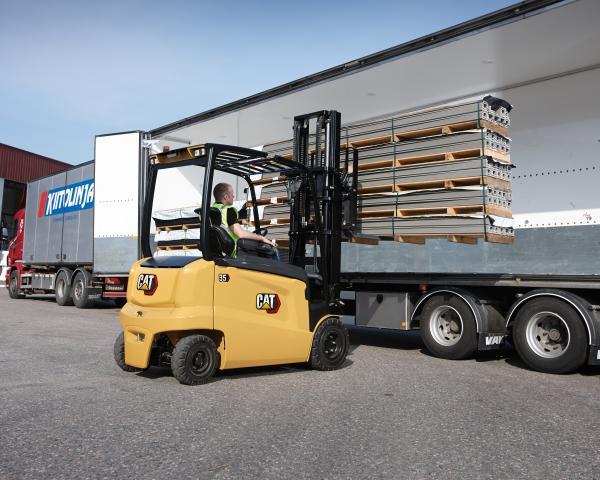 Image: