Almost everything we buy or use has been on the forks of a lift truck at some point. Our lives would be very different if forklifts didn't exist. Let's take a closer look at why these machines and their efficient use in materials handling are so important.
Materials handling efficiency is essential to our lifestyle and comfort, as the recent pandemic highlighted. Without enough warehouse staff available to handle goods, and drivers to transport them, shop shelves soon become empty. Forklift trucks are vital links in the supply chains whose non-stop product flow meets our daily needs. By doing their work quickly and efficiently, they help to keep delivery times short and prices low.
How much the world needs

forklifts
To give some idea of how much the world needs forklifts, just look at the numbers. Figures for the global materials handling equipment market vary between different sources, but they are always impressive. A report from Research and Market in February 2022 gives these estimates:
Expected to rise to 156 billion USD (around 147 billion Euro) in 2026
According to Fortune Business Insights, more than 1.38 million forklifts were sold in 2020. And who knows how many older trucks are out there? Perhaps ten million? So where are they and what are they doing? Well, it seems we need forklift trucks and mechanised materials handling right through the supply chain. You will find lift trucks for example:
Loading

raw materials and produce from mines, farms and other sources onto lorries

Unloading raw materials and produce from lorries at factories

Moving items to where they are needed in the factory for each manufacturing process

Moving finished goods to factory docking bays and loading onto lorries

Unloading products at

warehouses

and/or distribution centres

Transporting loads to and from storage areas

Stacking loads in racking systems

Removing full loads or picking individual items from racking to fulfil orders

Loading ordered goods into lorries

Unloading lorries, and storing and retrieving products, at retail outlets

Handling the

supply chain's

resulting waste materials in recycling and disposal operations

And much more
In short, materials handling covers every movement of materials or products within a site. It's an integral part of the wider activity of logistics management. While materials handling focuses on internal movements, logistics deals with the whole supply chain – from start to finish. That includes transport between sites by road, rail, air and sea.
But materials handling is much more than just moving things around. It's a complex science which needs to be expertly applied for maximum efficiency and safety. For this we depend on the expertise of materials handling professionals.
Efficient materials handling is built on good organisation and control of product storage and movement. This in turn depends on managing stocks and planning effectively to meet business and customer needs. Materials handling management responsibilities also include protecting goods from damage and, more importantly, safeguarding employees.
The designers and manufacturers of materials handling equipment – including forklift trucks – have a big part to play. For businesses buying or hiring forklifts, it's important to choose the right trucks. Since their invention, lift trucks have seen many advances in their design and technology. Today, managers can gain their full advantage by selecting models with high standards of ergonomics, safety, productivity and overall cost-efficiency.
To see what advanced lift trucks look like and what they have to offer the materials handling world, click here.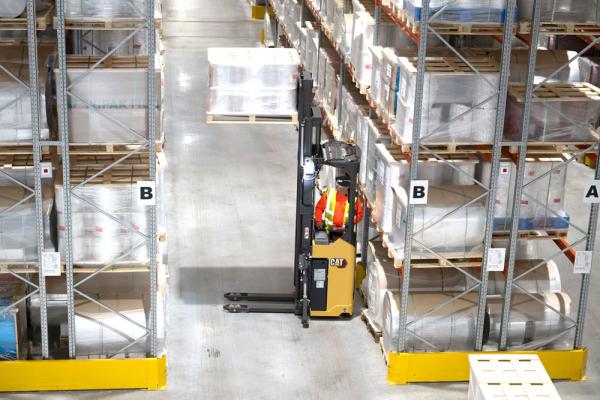 Image: