New-generation Cat® tow trucks lead on comfort and effectiveness
With its market-leading efficiency, control and comfort, the new NTR30-50N2 tow truck range from Cat® Lift Trucks promises to boost both machine and operator effectiveness.
Buyers can choose between standard 3.0 tonne and heavy duty 5.0 tonne models, each featuring an integrated single-unit motor and gear design which delivers the market's highest efficiency. They benefit from clever designs and intelligent systems developed and proven in the energy focused Cat NO-N2 low-level order picker range.
Comfortable and effective operation
The driver's large and unobstructed work area, with wide entrances, a low step height, a non-slip mat and no tripping hazards, enables quick on-off and walk-through access. For maximum comfort and low fatigue, its triple-suspension floor offers: a floating structure to dampen shocks and vibrations; sideways dampening to relax knees and ankles; and state-of the-art matting to reduce microvibration. An optimally shaped backrest adds further luxury and provides a secure leaning position during turns.
Operating the innovative steering wheel is effortless, with either hand. It features vibration damping and is adjustable for height and angle to fit each driver perfectly. When reversing, the driver's hand can be positioned on top of the wheel to steer precisely and comfortably while reducing twisting of the shoulders and wrists. Ergonomically shaped accelerator triggers and other controls, integratedwithin the wheel, can be reached easily without releasing grip.
Smart and efficient control
Smart technology built on the Cat Responsive Drive System (RDS) ensures a precise, safe, relaxed and enjoyable driving experience. Advanced steering functionality adapts rapidly to every change in the driver's steering behaviour and travel speed to keep all movements smooth and controlled. When turning, unique intelligent curve control constantly adjusts steering sensitivity, cornering speed and angle limitation to maintain fluent motion, traction and balance from start to finish.
Walk-beside operation, controlled via the steering wheel, gives clear views of the trailer. It is especially useful when manoeuvring to couple or uncouple trailers, or for conveniently moving the truck over very short distances. Optional side-mounted controls are available. From a walking position, the 'flying start' function allows operators to begin accelerating before stepping onto the presence-detecting floor mat. Full acceleration is permitted once on board.
The latest advances in traction control ensure smooth, rapid acceleration and prevent wheelspin – along with related wear – when driving on slippery surfaces or pulling heavy loads. Regenerative braking is optimised to eliminate swaying effects when the truck comes to a full stop. Together with a hill hold function and anti-lock brakes, it helps the driver to operate smoothly, confidently and safely, whatever the conditions. Deceleration rates and stopping distances are easy to control and predict, for accurate positioning, and are programmable using TruckTool.
Options
In addition to a generous standard specification, NTR30-50N2 tow trucks can be customised with a variety of extra features. They include an automatic coupling device which instantly locks the truck and trailer once they are in the right position. An additional manual release option enables decoupling without leaving the truck.
Further information on Cat® forklifts, warehouse equipment and related services can be found at www.catlifttruck.com. See them in action via www.catlifttruck.com/ame/videos and follow the news on Facebook and Twitter.
Image: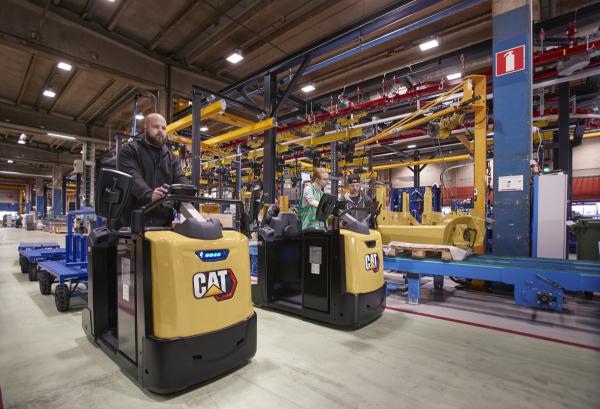 Image: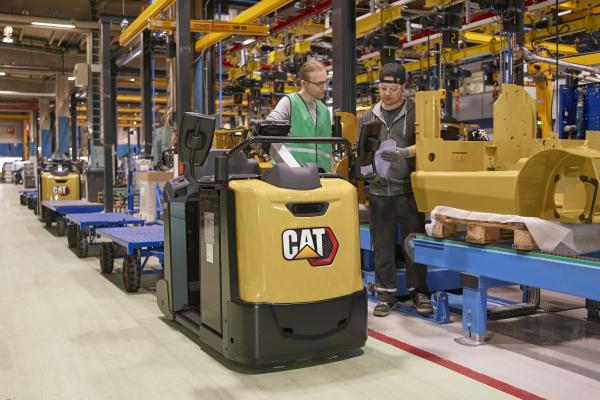 Image: