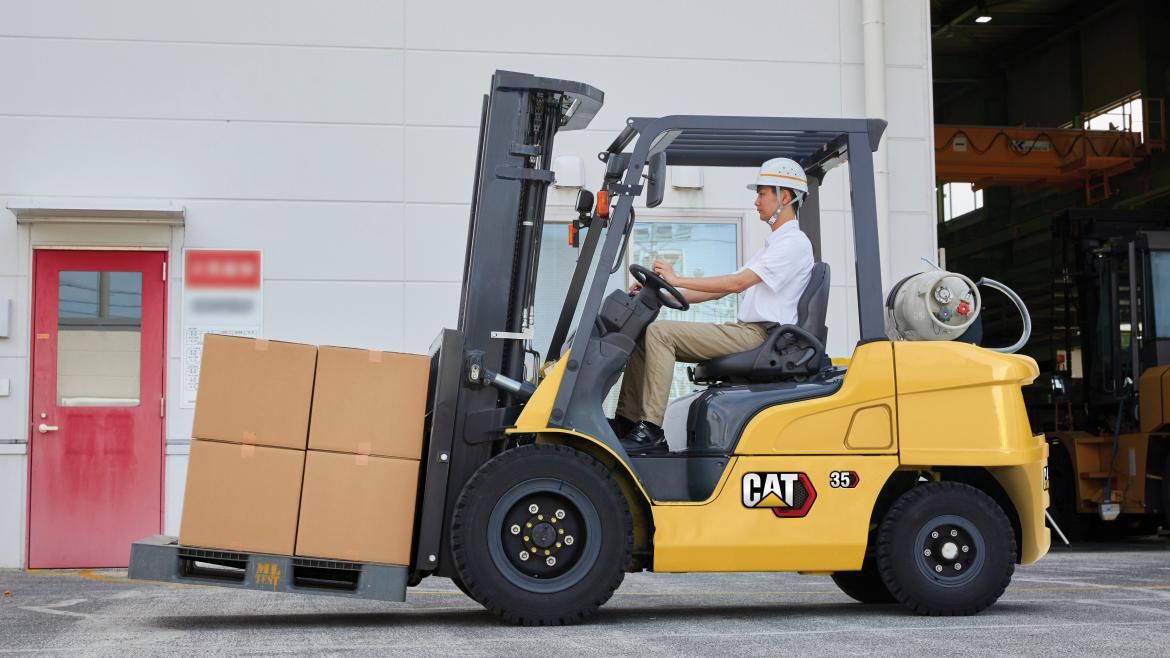 For genuine economy, power and non-stop productivity, consider our compact and durable petrol/LPG forklift trucks.
They're ruggedly built to cope with demanding industrial applications and harsh conditions. At the same time, they get the best out of your drivers with their user-friendly design.
These counterbalance forklifts benefit from the latest electronically controlled petrol/LPG engine technology. Its results include significantly lower fuel consumption and enhanced lift truck performance.
Within this petrol and LPG forklift range you will find multiple model and configuration choices to meet your specific needs. They include different load capacities, chassis types, mast designs and heights, and engine sizes. There are also many additional options, including extra engine protection for dusty and/or hot environments.
You can depend on our compact engine powered lift trucks for high strength, including outstanding traction on sloping or slippery surfaces. They also offer impressive residual capacities, stability and manoeuvrability.
Our compact IC engine counterbalance lift trucks are also designed to make drivers more productive. Low noise and vibration, a comfortable operator compartment, clear all-round vision and ergonomic controls are essential to this. These factors help to maintain high work rates by reducing driver fatigue and stress-related illness.
Long service interval (500 hours) cuts downtime and maintenance costs.
LCD display with large screen and integrated switches encourages correct use and maintenance of truck.
Bluetooth wireless connection option allows simpler authorised driver identification, as well as quicker programming, diagnostics and servicing, via smartphone or laptop.
Robust construction minimises repair and part replacement needs.
Hydraulic pump directly driven by engine reduces number of wearable components.
Specialised air-intake options include double-element cyclone air cleaner with dust warning indicator, for increased engine service life in dusty applications.
Specialised cooling options include heavy-duty radiator and dust screen, to reduce risk of overheating in hot work environments.
LED lights are long-lasting, low-maintenance and energy-efficient.
Latest petrol/LPG engine technology significantly reduces fuel consumption.
Auto stop option switches engine off, after a set period of non- use, to save fuel. (Available on petrol/LPG models and on diesel models fitted with electronic control option.)
Electronically controlled petrol/LPG engines enhance performance.
Industry-proven diesel engines provide reliable power in all conditions.
Special powertrain layout lowers centre of gravity for increased truck stability and residual capacity.
Fully hydrostatic steering combines with small-diameter steering wheel and compact truck design for rapid but precise manoeuvring with little effort.
Tilt horizontal control option allows quick and confident levelling of forks when out of driver's view.
Laser fork height pointer option enables driver to direct forks precisely and quickly into pallets and racking.
Adjustable steering column with positional memory ensures comfort and – along with large hand grip and slip-resistant step – eases on/off access.
Full-suspension vinyl seat is comfortable and durable, with hip restraints, seat belt and adjustability for position, back angle and driver weight.
Fully floating powertrain results in very low noise and vibration levels.
Mast, fork carriage and overhead guard design provides excellent all-round visibility in all loading and unloading operations.
Enlarged screen of LCD colour display (40% bigger than previous version) keeps drivers fully informed, while integrated switches add extra user convenience.
Fingertip hydraulic control option features an adjustable, comfortable armrest and ensures ergonomically perfect hand positioning, anatomical support and free movement.
CrossLever hydraulic control option combines lift, lower and tilt functions into a single mechanical lever for simple and convenient use.
Automotive-style pedal layout is familiar and comfortable to use.
Drum brake system is self-energising and self-adjusting for low pedal effort and easy operation. 
Double-action parking brake avoids unintended release.
Presence Detection System+ (PDS+) provides warning alerts and safety interlocking for seat belt and parking brake.
PDS+ seat belt interlock prevents all drive and hydraulic movements – and activates warning light – if the belt is not fastened.
PDS+ parking brake interlock prevents driving with brake applied and sounds an audible alarm if driver exits with brake off.
Bright orange seat belt colour helps in encouraging and enforcing best safety practice.
Drive speed limitation option allows setting of safe limits for specific applications. (Available on petrol/LPG models and on diesel models fitted with electronic control option.)
LED light package includes front indicators and rear combination lamps as standard, while headlamps are optionally available on mast for further operating safety.
Increased mast back tilt angle reduces risk of loose loads sliding from the forks.
| MODEL | CAPACITY (kg) | LOAD CENTRE (mm) | ENGINE |
| --- | --- | --- | --- |
| GP15PT | 1500 | 500 | GCT GK21 |
| GP18PT | 1750 | 500 | GCT GK21 |
| GP20CPT | 2000 | 500 | GCT GK21 |
| GP20PT | 2000 | 500 | GCT GK21 |
| GP25PT | 2500 | 500 | GCT GK21 |
| GP30PT | 3000 | 500 | GCT GK25 |
| GP35NPT | 3500 | 500 | GCT GK25 |
| GP20PTH | 2000 | 500 | GCT GK25 |
| GP25PTH | 2500 | 500 | GCT GK25 |
Image: