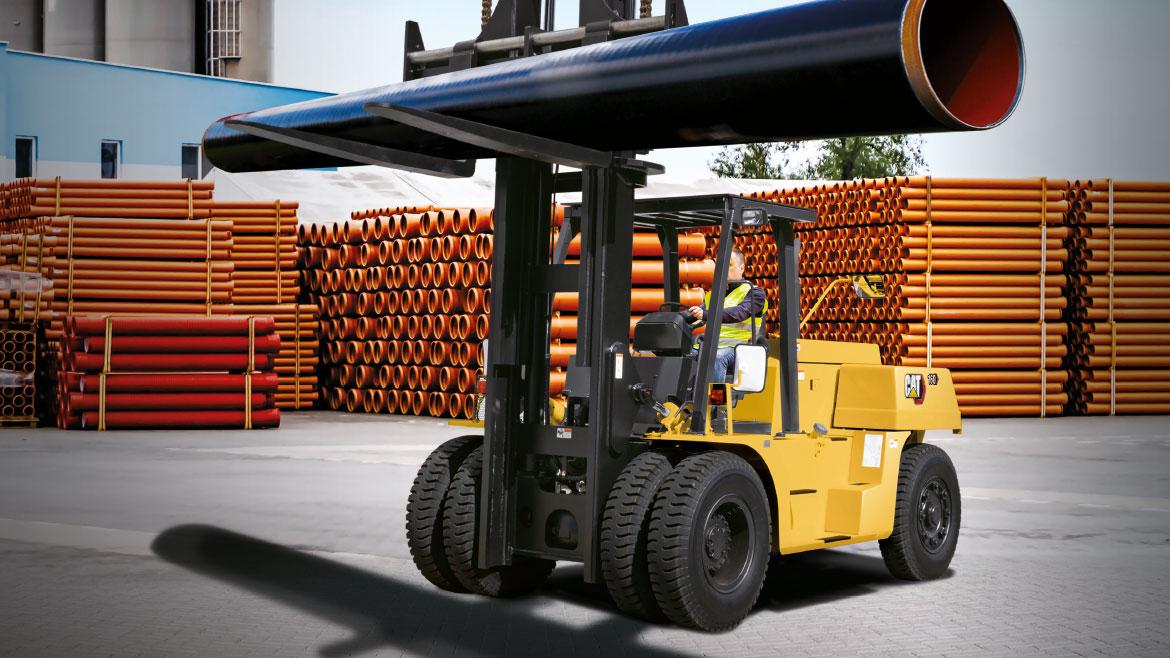 Designed to cope with rough treatment in the harshest environments and heavy-duty applications, the Cat® DP100-160(S)NL range offers tremendous traction force, load handling performance and sheer strength.
As well as being highly productive and dependable, these powerful, high-capacity diesel counterbalance forklifts provide a rewarding and comfortable driving experience. Drivers benefit from precise, responsive, fully hydrostatic assisted steering, smooth, three-speed automatic transmission and a fast-response turbocharger, together with clear-all-round visibility and a small turning circle. As a result, even the largest Cat IC engine counterbalance trucks are fast, agile and easy to manoeuvre.
The rugged construction of our diesel lift trucks not only minimises damage, wear and maintenance needs but protects the drivers. Enclosed within a safe space, they enjoy the comfort of low noise and vibration, generous legroom, an adjustable full-suspension seat and a tiltable steering column. Amongst the driver compartment's ergonomic aids is an electronic control which allows changes between forward and reverse without stopping or taking hands off the steering wheel.
Typical applications of Cat 10.0 to 16.0 tonne diesel forklift trucks:
Stevedoring
Empty container handling
Metal industries
Lumber
Concrete, stone, clay and glass
Industrial machinery and equipment
Distribution centres
Brick and stone
Robust steel frame designed using Finite Element Analysis gives durable structure with low centre of gravity, resulting in higher residual capacity.
Fully floating drive axle adds extra durability and capacity compared to semi- or non-floating alternatives.
Steer axle construction as a single solid unit maximises strength and rigidity.
Dependable engine and strong resistance of all truck components to damage and wear helps minimise repair and service bills.
Wet multi-disc parking brake is highly durable and maintenance-free.
Easy and quick access to all areas for routine checks and maintenance keeps truck in sound working condition, saves time and reduces expense
Automatic transmission in drive train converts engine power directly into torque, with three forward and three reverse speeds, to tackle heavy-duty applications effectively.
Low-speed torque delivers controlled but powerful acceleration for maximum productivity, while fast-response turbocharger further enhances driver experience and output.
Design of frame and counterweight optimises weight positioning and residual capacity for strong lifting.
Noise and vibration limitation features include rubber-mounted key components, fully insulated steel engine hood and helical transmission gears.
Electronic direction control permits easy and smooth shifting between forward and reverse travel, without removing hands from steering wheel, at any speed up to 4.0 km/h.
Fully hydrostatic assisted steering via small-diameter steering wheel ensures accurate and rapid response with little effort.
Counterweight design allows small turning circle and clear view to the rear for precise manoeuvring.
Mast with narrow channels and small-diameter lift cylinders increases forward vision and uses six load rollers with side rollers to achieve high load stability.
Turn signal lever combined with light switch adds convenience (and returns to neutral when wheels are straightened).
Presence Detection System (PDS) gives audible warning if seat belt is not fastened and prevents all travel and hydraulic movement if operator is not correctly seated.
Electric parking brake with one-touch switch secures truck with minimal effort.
Tiltable steering column, adjustable full-suspension seat and generous legroom allow each user to find the perfect driving position.
Conveniently placed grab bars and steps ease access to operator compartment.
Optional weatherproof cabin can be fitted with further comfort options, including air conditioner, heater and defroster, to keep driver productive even in extreme conditions.
| MODEL | CAPACITY (kg) | LOAD CENTRE (mm) | ENGINE |
| --- | --- | --- | --- |
| DP100NL | 10000 | 600 | Diesel |
| DP115NL | 11500 | 600 | Diesel |
| DP120NL | 12000 | 600 | Diesel |
| DP135NL | 13500 | 600 | Diesel |
| DP150SNL | 15000 | 600 | Diesel |
| DP160SNL | 16000 | 600 | Diesel |