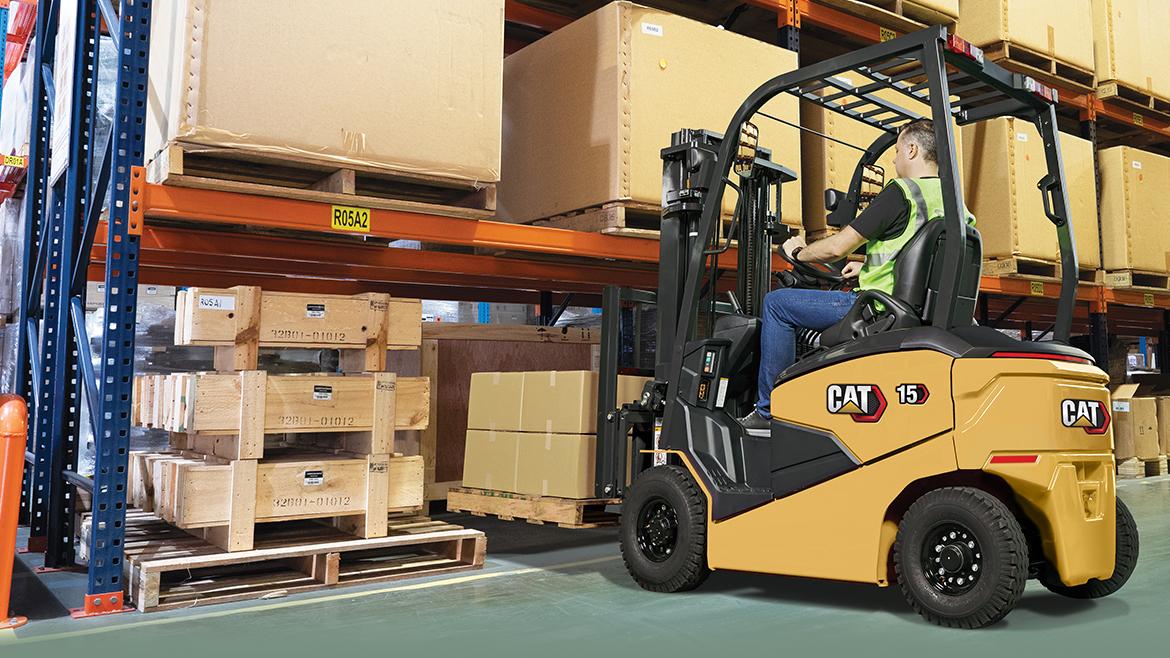 Equipped with a host of ergonomic and safety features, these trucks enable drivers to work quickly and confidently – and get the job done. High productivity combines with great energy efficiency and robust design to lower operating costs and increase profits.
Typical applications
Food and beverage manufacturing and wholesale
Chemical, textile & rubber
General & refrigerated warehousing and storage
Machinery & heavy equipment
Electric equipment & components
These economical and easy-to-handle forklift trucks, with capacities from 1.0 to 3.5 tonnes, cover everything from light and medium warehouse duties to outdoor tasks – for which IPX4 waterproofing is provided.
A smooth and enjoyable driving experience is assured by refinements like pitching control. This feature minimises shaking of loads when the truck travels over an uneven floor or hits a hump. Meanwhile, automatic increases in torque maintain steady, fluid movement when climbing slopes or carrying heavy loads. A high-stability design, with a low centre of gravity, gives a further sense of confidence and smoothness in all operations.
The latest electric hydraulic steering enables fast, precise and safe manoeuvring. A variety of standard and optional safety systems automatically adjust travel, lift and tilt speeds according to the truck's activities at any moment. When working on inclines, speed can be maintained at a low level using the safety cruise function. In addition to the standard specification's selectable performance modes, customised setting options are available to suit each driver's application, ability and preferences.
High productivity combines with great energy efficiency and robust design to drive down the total cost of ownership and increase profit for the truck user's business. An ECO performance mode, efficient regenerative braking and an auto power off feature cut energy consumption and extend battery runtime from each charge. Lifetime costs are lowered by high-endurance construction, including a one-piece frame, a cast counterweight and a rear axle built to IC engine forklift standard. A large, easy-to-read LCD display, giving clear information on condition, helps drivers and service engineers to use and maintain the truck optimally.
ECO mode can be selected with any of the other performance modes to extend working hours (runtime) per battery charge.
Efficient regenerative braking technology extends battery runtime and reduces brake wear.
Auto power off is activated after 15 minutes of truck inactivity, with key switched on, to cut energy consumption.
PIN code login option allows owner to adjust performance settings and prevents unauthorised truck use.
High-strength, one-piece frame with side body and cast counterweight gives superior endurance and impact protection.
High-endurance rear axle built to same standard as on IC engine models.
IPX4 protection of truck against rain and splashing water from any direction enables outdoor use.
Performance mode selection gives choice of normal (N), high power/speed (P) or – optionally – fully customised settings (C), according to the driver's application, ability and preferences.
Electric hydraulic power steering enables smooth, stable, precise manoeuvrability, operates easily even when the truck is at standstill, and synchronises knob position with rear-wheel angle.
Automatic torque up increases power when climbing slopes or carrying heavy loads, to maintain smooth motion.
Laser pointer option projects a mark onto the load, guiding forks quickly to the right height, while audible and visual signals confirm when the tilt is horizontal.
72 V 3.0 and 3.5 tonne capacity models are available for the heaviest applications
Low centre of gravity is achieved through battery layout design and high-mounted rear axle, for strong stability, smooth travel and safe turns.
Pitching control reduces shaking of load when the truck travels over an uneven floor or hits a hump.
Smooth running load system option absorbs road surface shock and vibration, to protect delicate loads and reduce rattling noise from fork and mast.
Standard automatic control systems slow down travel speed when turning and reduce lift speed when travelling.
Optional extra control systems reduce travel and tilt speeds according to lift height, and limit travel speed according to load weight.
Safety cruise function maintains safe, low speed on slopes when brake or accelerator pedal is released, or when directional lever is set to neutral.
Soft landing slows mast lowering, just before forks reach the ground, to reduce shock and noise.
Spacious operator compartment offers comfortable, adjustable seat, large, uncluttered floor, plenty of headroom, wide entrance, front grab handle, low and broad non-slip step, and rear grab handle with integrated horn for reversing.
Ergonomic controls include a small, optimally placed steering wheel, with adjustable column angle, an optimal hydraulic lever layout, and optimum pedal heights.
Excellent all-round view is assured by overhead guard, hand grip and mast design, slanted load backrest crossbar (for better fork tip visibility), low, narrow dashboard and counterweight curve aligned with turn radius.
Large interactive liquid crystal display (LCD) keeps drivers fully informed and is easy to read even in bright sunlight.
Useful storage spaces include large pockets for items like mobile devices and bottles, as well as a wide space (with a clip) for paper and magnet attachment.
Parking brake warning reminds driver – audibly and visually – to activate the brake when leaving the truck and release it when starting.
Automatic interlock prevents travel or mast activation unless the driver is safely seated.
| MODEL | CAPACITY (kg) | LOAD CENTRE (mm) | ENGINE |
| --- | --- | --- | --- |
| EP10CB | 1000 | 500 | Electric 48v |
| EP15CB | 1500 | 500 | Electric 48v |
| EP18CB | 1750 | 500 | Electric 48v |
| EP20CB | 2000 | 500 | Electric 48v |
| EP25CB | 2500 | 500 | Electric 48v |
| EP20LCB | 2000 | 500 | Electric 48v |
| EP25LCB | 2500 | 500 | Electric 48v |
| EP30CB | 3000 | 500 | Electric 48v |
| EP35CB | 3500 | 500 | Electric 48v |
Image: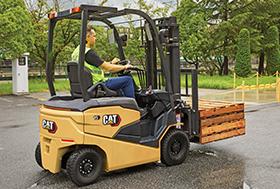 Image: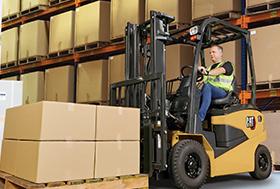 Image: