Cat® Lift Trucks has introduced two new-generation double pallet handlers to speed up the loading, unloading and horizontal movement of palletised goods.
Fast work
The Cat® 1.6 tonne NPP16PD pedestrian and 2.0 tonne NPV20PD platform double pallet handler models have an immediate productivity advantage, as they can carry two pallets simultaneously. Not only does this halve the number of transport movements required, but with one pallet carried above the other there is no need for wider passage space.
Output is further boosted by fast travel and manoeuvring, thanks to the latest AC drive technology, easy control and compact dimensions. Using the NPV20PD's foldable ride-on platform, loads can be transferred with minimal effort over short, medium and long distances. The pedestrian NPP16PD specialises in shorter shuttle work.
Controllability
Both are operated via a new-style ergonomic tiller head, shaped to suit all hand sizes. Its large and easily reached lift/lower, speed and other controls enable highly controllable operation even when wearing gloves. The tiller arm has an inbuilt keypad and display, for quicker truck activation, setting selection and availability of information such as battery status. On the pedestrian model, the tiller arm's offset position allows the operator to walk alongside and improves vision.
Truck handling is enhanced by various aspects of the products' engineering. The pedestrian version features patented 4-point Friction Force suspension, which ensures constant drive wheel pressure on uneven surfaces for greater stability, traction and steering control. The platform model's five-point chassis uses a friction force system and anti-rollback functionality to improve ergonomics and safety.
Ride-on comfort
The NPV20PD's platform stays down for quick remounting and folds flat against the chassis to save space when not needed. Its cast-iron structure safely resists deformation, offers excellent cushioned comfort and has a low step height for easy on-off access. It is specially angled to encourage drivers to bend their knees, creating a relaxed standing position which makes use of the body's natural suspension.
Electronic power steering is an option on the platform truck. Its design avoids physical connection between the tiller arm and drive wheel, preventing transmission of bumps, twists and turns to the driver's hand. The system is progressive – adjusting sensitivity according to speed and tiller angle. It also provides resistance and feedback from the drive wheel to help optimise the driving experience.
Operating economy
Both models are easy and economical to maintain, with long service intervals, fast access features and an onboard computer which simplifies diagnostics and condition monitoring. PIN code login prevents unauthorised use. A BDI (battery discharge indicator) helps prevent damaging deep discharge and supports optimal timing of battery changes.
Amongst the many optional extras are Li-ion batteries. These make continuous operation possible, without battery changes, using fast opportunity charging during short breaks. Other options on the NPV20PD include foldable sidebars, fixed platforms with a choice of barriers and entry/exit points, and increased travel speed (10/12.5 km/h with/without load).
See them in action via https://www.catlifttruck.com/ame/videos and follow the news on Facebook and Twitter.
Image: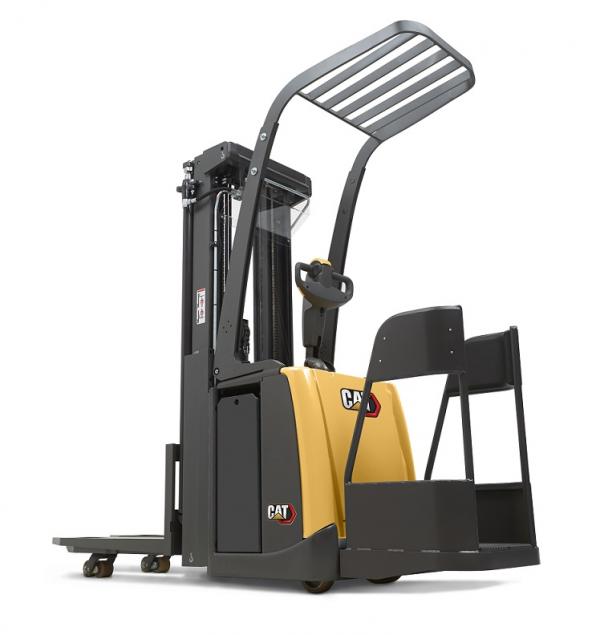 Image: