Cat® Lift Trucks has boosted the energising performance of its NO-N2 low-level order pickers and NTR-N2 tow tractors. Already leading the market on energy efficiency, they now offer the option of Li-ion battery technology.
The change comes as part of a fine-tuning programme focused largely on software, electronics and controllers. Customers opting for the integrated Li-ion batteries will gain further productivity and operating economy advantages.
Traditional lead-acid battery power is still available on every model, for those who prefer it. Li-ion is most likely to be chosen for intensive, multi-shift, 24/7 applications.
Through fast opportunity charging, the Li-ion option enables continuous operation without battery changes. It is also more efficient in terms of lower energy losses, longer runtime and consistently high output. In addition, Li-ion batteries save time and money with their minimal maintenance needs and longer life.
Specialised solutions
The eight-model order picker range covers all first- and second-level picking needs. Capacities are from 1.2 to 2.5 tonnes.
The line-up includes rising fork (F) versions, lifting loads to a convenient height to reduce stretching and straining for the operator. Scissor-lift (X) versions have a similar rising function, but with their long forks they can carry larger loads. Two Europallets or three-to-four roll cages can be handled at once.
Rising platform (P) models allow the operator to pick at heights up to 2.5 metres without climbing. This feature can be specified separately or combined with rising forks or scissor-lifting.
The Cat NTR30-50N2 tow truck range shares many of its features and systems with the NO-N2 low-lever order pickers. There are two models: standard 3.0 tonne and heavy duty 5.0 tonne. Often used in the automotive sector, they are suited to a variety of warehouse and industrial applications involving towing of loads.
Energised operators
Cat low-level order pickers and tow trucks not only deliver class-leading energy efficiency but maximise their operators' energy and performance. For instance, operator fatigue is reduced by features like the vibration-dampening triple-suspension floor. Meanwhile, a low step height, easy walk-through access, 'flying start' drive and ergonomic controls save effort and time.
Users can work quickly, accurately, smoothly and safely thanks to smart technology built on the Cat Responsive Drive System (RDS). It includes adaptive steering, intelligent curve control and automatic optimisation of traction, acceleration and braking. In all these ways, maximum effect can be gained from the energy of both the truck and its operator.
Further information on Cat Lift Trucks, warehouse equipment and related services can be found at www.catlifttruck.com. See them in action via https://www.catlifttruck.com/videos and follow the news on LinkedIn, Facebook and Twitter.
Image: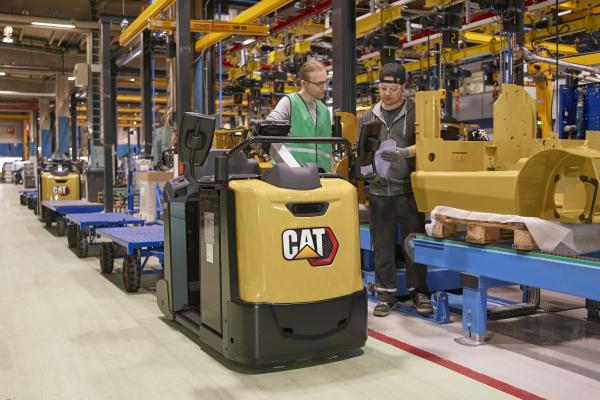 Image: