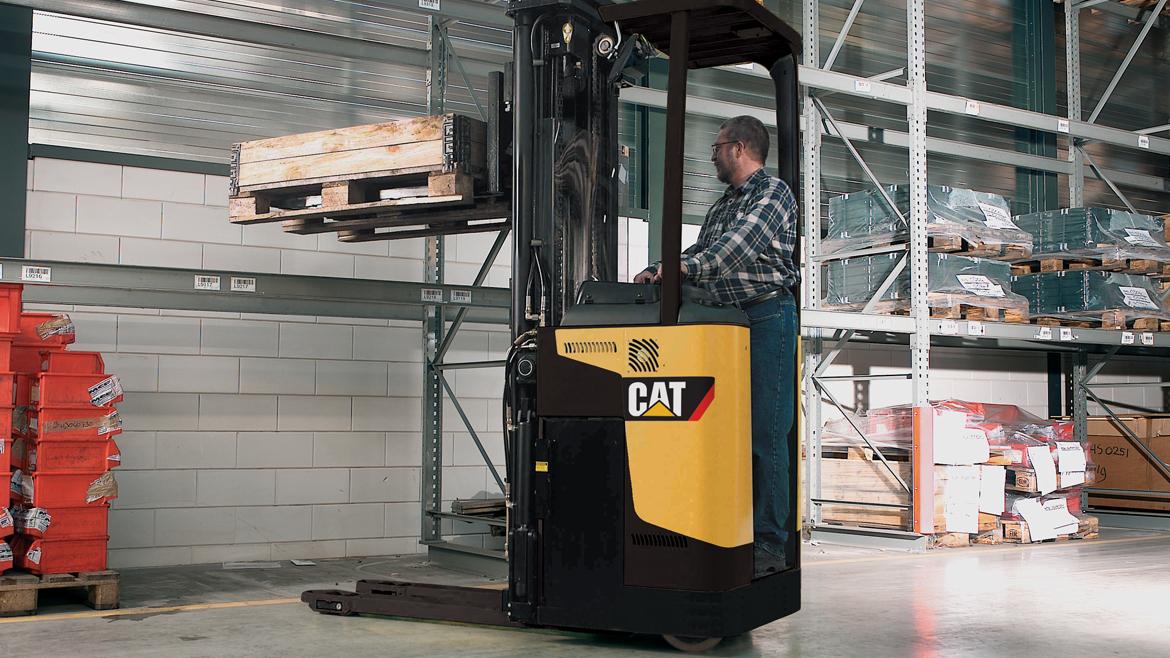 Designed for stacking up to 6.5 metres and horizontal transport across the longer distances in your warehouse.
This compact range of Stand-on stackers is ideal in stacking situations and horizontal movements up to 80 meters plus, particularly where operators need frequent and easy on-off access.
Precision engineered for fast travel and fast lifting speeds these trucks are ideal for work in aisles too narrow for reach trucks. Extendable side stabilizers (standard with Triplex masts, optional on simplex and duplex) support high residual capacity at heights of up to 6.5 meters. Where increased ground clearance is needed, when working on ramps or uneven floors, the NSR16NI Initial lift model is the answer. The range benefits from progressive steering and automatic speed reduction in curves for improved stability at high speeds. Automatic speed reduction with increased lift height, enhances the safety of the operator, other workers in the vicinity, as well as the load and racking. These stand-on stackers are smooth, powerful and programmable to suit your applications and enable your operators to deliver the productivity you demand.
Smooth, progressive, with easy to use controls enhancing operator concentration leading to better shift productivity.
AC-drive technology means longer service intervals, reducing the total cost of ownership.
Battery discharge indicator (BDI) incorporates lift cut-out for battery protection.
The NSR12N NSR16N and NSR20N are compact stand on stackers, designed for horizontal movement over long distances and applications where the operator needs frequent and easy on-off access.
Ideal for work in aisles too narrow for reach trucks, these stackers are precision engineered for fast travel and fast lifting speeds that guarantee high productivity lifting loads up to 6500mm (with Triplex mast).
Extendable side stabilizers are available for a high residual capacity at elevated heights (standard with Triplex masts, optional on duplex).
Fast acceleration and excellent manouverability giving high productivity.
Initial lift models for increased ground clearance, making the truck suitable for working on ramps.
Standard PIN code start-up, and driver specific settings.
Programmable features for driver.
Regenerative braking feeds power back into the battery.
LCD display with all relevant information (Drive wheel direction, driving speed, battery discharge, errors and warnings, service access).
AC drive gives smooth control, rapid acceleration and a high drive speed (with or without load).
Smooth hydraulics, proportional lifting & lowering.
Highly manouverable with a small turning radius.
High residual capacities, especially with side stabilizers.
Fold open battery compartment for easy access.
Battery roller as standard for quick battery change.
Rounded fork tips for easy pallet entry, when approaching at an angle.
Easy to operate driver's menu.
Progressive steering gives excellent maneouvrability at low speeds and stability at high speed.
Ergonomically designed electronic 360° fly-by-wire steering gives precise control at speed.
Good all round visibility.
Low step-in and good on-off access.
Automatic speed reduction in curves, for safe and secure handling.
Automatic speed reduction as lift height is increased.
Suspended drivers platform for driver comfort.
| MODEL | CAPACITY (kg) | LOAD CENTRE (mm) | ENGINE |
| --- | --- | --- | --- |
| NSR12N | 1200 | 600 | Electric |
| NSR16N | 1600 | 600 | Electric |
| NSR16NI | 1600 | 600 | Electric |
| NSR20N | 2000 | 600 | Electric |